Original URL: https://www.theregister.com/2013/03/20/whstever_happened_to_telepresence/
Whatever happened to telepresence? From $2.5m deals to free iPad apps
It's the tech that made Microsoft feel the love for open standards
Posted in On-Prem, 20th March 2013 10:03 GMT
Feature Cast your mind back nearly 10 years and high-end videoconferencing with its eye-watering price was being touted as the substitute for the corporate jet. At the time, having remote video streams to view your conference room was a big deal that involved an awful lot of looking after and a continuous investment each month for the privilege along with line leasing.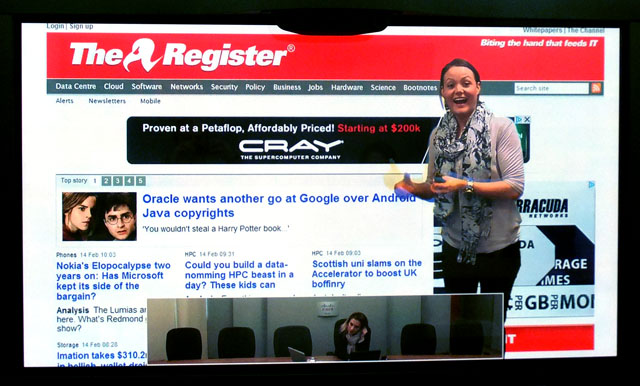 TelePresence Cisco style: some green-screen trickery can make a big impression
Raising the game in 2006, Cisco branded its 1080p videoconferencing offering as TelePresence. In its endeavour to provide a state-of-the-art experience, the product was so mightily expensive - at up to $500k per room - that corporate jet didn't seem so pricey after all.
But times have changed and anyone with a half-decent smartphone from the last two years or so will have an HD video streaming capability. BYOD has increased the proliferation of this functionality in corporate environments and the holy grail of unified communications actually appears to be manifesting as a reality, rather than a mere sales pitch.
What appears to be driving this integration is a fight for survival an epiphany of sorts. As you'll see from the remarks below from Cisco, Polycom, Radvision (Avaya) and others, working on playing nice with each other is the only way they can reassure the market to adopt their products and associated infrastructure.
Another key player is Microsoft and, surprisingly for a company with such a long history in proprietary products, its recent introduction of Lync 2013 plays a significant role in this integration. Steve Tassell, Microsoft's Unified Communications Product Manager, has observed a different mood in the industry.
Open office
"I've been in UC for the last four years," says Tassell, "and probably the biggest change that I've seen is everyone talks about open standards. They have done for a long time but I think we're just starting to get to the point now where there's probably now a more 'genuine' approach to open standards now than perhaps in the past, because you've now got a few key players that have to work together.
"Customers don't want to have the problem of how to make two things work together. They'll say, 'You guys work that out and come to me when you've got a solution.' Then, that's what we have to do, that's what we're doing. So yeah, UC is starting to feel like more of a reality than perhaps a few years ago."
Indeed, as far as software goes, Microsoft looks as if it could eventually own the Unified Communications space having changed its old habits and embraced HTML5 with Lync 2013 and supporting multiple platforms, but more on its volte face later. What about those boardroom broadcasters? Are there still customers out there for these high-end products. It's a market that Ian Vickerage, founder of video conferencing distributor Imago, knows very well.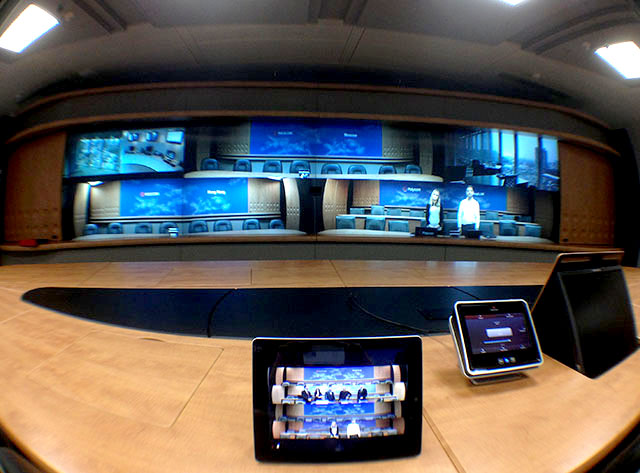 Polycom's RealPresence Immersive: everything right down to the chairs is specified in this environment
"A couple of years ago, we saw a lot of big companies coming out saying we want to implement big systems, room systems, plus a lot of mobile users. And then they got the quote. They were expecting $250,000 and got a quote asking for $2.5m. And the really upsetting thing about it was, they didn't get angry, they just laughed. 'Hah, is this some kind of a joke?' But it wasn't a joke, because there's this hidden infrastructure cost that's not being talked about."
That kind of response from potential clients has galvanised minds. Recent technological developments have delivered alternative approaches to the conventional infrastructure and, in turn, costing models have changed as these innovations demonstrate a competitive edge. This has also helped drive the growth of desktop video in the corporate environment and Vickerage has noticed those potential customers from a couple of years ago are showing interest again, as these systems become more affordable.
Vidyo killed the AVC star
Arguably, the biggest industry shake-up has been the appearance of Vidyo, which - unlike Cisco, Polycom, Radvision and the like - describes itself as a software company. Vidyo has a few tricks up its sleeve but the one that was the real game-changer was its codec development, culminating in the ITU ratification of its implementation of H.264 SVC (Scalable Video Coding). This codec extension was something that had been known in theory, but Vidyo was first to put it into practice.
Previously, corporate videoconferencing had relied on the H.264 AVC (Advanced Video Coding), which is still in use today. However, that coding technique, with its roots in Blu-ray, was never really designed for an IP network. Yet in a telepresence scenario it assumes you have a fixed bandwidth and a fairly stable connection, typically on a leased line or an ISDN network. Fraser Dean, Vidyo sales director, explains the problem the company worked to overcome.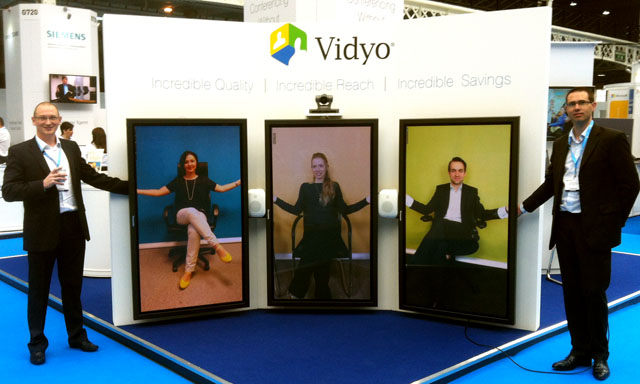 Vidyo live streams from European countries on show at the Unified Communications Expo 2013
"You take those AVC codecs today and put them on an IP network, as other applications come online that bandwidth is going to be reduced (it's a shared medium), so traditional codecs using AVC can't cope. So what does the industry say? If you want to get the best out of your video conferencing, you've got to put it on to an MPLS (Multiprotocol Label Switching) network, so that's further cost and further restricting where I can deploy video conferencing."
Dean adds: "The AVC approach was right for those times, but for today's networks and deployments we need a way of being able to cope with bandwidth fluctuations to deliver video over the internet. So we're a software company. We don't care if it's a Mac, PC or Linux, iOS or Android, we've got the clients that download on one of those devices. And when you work up to our room systems and telepresence solutions, it's still software but we preload it on Intel chipsets. And that allows us to constantly improve the level of quality pretty much every quarter."
If this sounds like hype, then you only have to look at all the recent SVC adopters from the AVC camp to realise Vidyo is on to something. OK, so Vidyo currently licenses its SVC implementation, but various flavours of SVC exist now that, overall, enhance interoperability.
A trade alliance called the Unified Communication Interoperability Forum (UCIF) formed in 2010 to aid this further, which has some big names behind it but one notable absentee: Cisco. This state of affairs hasn't escaped the notice of Imago's Ian Vickerage.
"The bigger barriers are infrastructure, but that's been overcome with this SVC technology," says Vickerage. "And SVC is not a low-end technology – it's better in every area of the business – it's just a better mousetrap. And the only company that is not supporting it in the entire industry is actually Cisco. LifeSize, Radvision and Polycom have announced it. Vidyo has been doing it for years. Cisco has said nothing, so let's see what happens."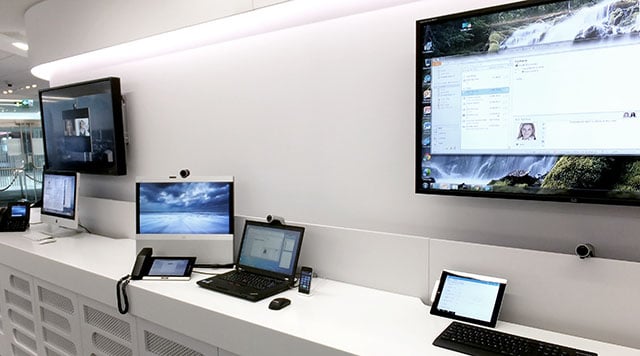 Cisco's H.264 AVC choice is widely supported by established high-end rivals and it offers a variety of desktop and mobile products.
Now H.264 Scalable Video Coding, as its full name implies, scales and adapts to the available bandwidth. Former AVC-only companies have been able to integrate their own implementations of SVC in their existing systems with considerable success, as Tim Stone former Cisco Marketing Director and now Polycom's VP of EMEA Marketing describes.
"What's happening with video is what people are using and the amount of devices is just exploding and that's where the SVC standard comes in. That gives you the ability to do much higher volumes of calls on the same hardware."
And it's the hardware, along with monthly operational expenses, that have been a barrier to broader adoption of telepresence. Traditionally, an MCU (multipoint control unit) has been utilised to handle the video bridging but with costs around £6k to £8k per HD port, the costs can quickly mount up for multipoint bridging in large companies - even though these ports are dynamically allocated, as required. As Vickerage emphasised, it's those costs that have impeded adoption, yet Stone is upbeat about how these costs can be managed,
"What's happening now is the market is changing to video being ubiquitous in organisations and people using lots of different devices. So it's not a matter of the video market 'going away', it's evolving and changing to multiple devices (depending on the situation they're in) and it's a matter of things to moving to the cloud too."
Immersion Therapy
If you're inclined to think that telepresence is just a glorified form of Skype then you really have to experience it to appreciate where the money goes. At the high end, the thinking is to deliver an immersive experience where, after a few minutes chat, you'll forget the two dimensional element of the on-line participants and engage with them as you would if they were across the table.
The fully immersive telepresence concept relies on precise seating and camera positioning so that the person on-screen appears the same size as if they were sitting opposite you. This means that the folk at the other side of the planet need the same set-up to pull this off. To add to the realism, you get directional audio too, to make it easier to identify who's talking. So when the person on the right pipes up, that's where the sound comes from. It's especially useful if you've never met the participants before.
Eye contact is an important factor too and the cameras are positioned to optimise this, but if your contact is off-axis, then it can be like talking Al Pacino in Scent of a Woman. No doubt experienced telepresence users learn tricks to build eye contact confidence and look at the camera when talking, rather than the screen.
The problem of talking over each other remains, but latency is not too noticeable these days. Tell a good joke and unless they're a bit dim at the other end, you'll get an idea of the delays. Perhaps it's the talking over people aspect that makes telepresence work. It seems to instil new disciplines where you learn to shut up and listen to avoid call crossover chaos.
Another aspect that the top end telepresence demands is the use of separate monitors for presentations. For this purpose, Cisco has a large display beneath its trio of screens which has been criticised as being "sexist", as women, who are typically shorter couldn't sit comfortably and see the data. High heels don't help when you're sat in a chair. Polycom's immersive suites have separate displays on the table which might appear a little more cluttered but avoids any issues for the vertically challenged.
Clouded vision?
The cure-all cloud looks to be the silver lining for Stone, enabling growth in this market as new service models are developed to meet a different kind of customer. He notes, "Recent announcements with AT&T, also BT and OBS (Orange Business Services) are critical for the future of the market, especially small-medium businesses.
"They aren't necessarily going to want to buy all the infrastructure and build it themselves – the MCUs etc. They'll be looking to pay per user per month from BT, OBS, AT&T and there are also other video providers emerging on a usage basis, so they can start getting access to it quickly and easily."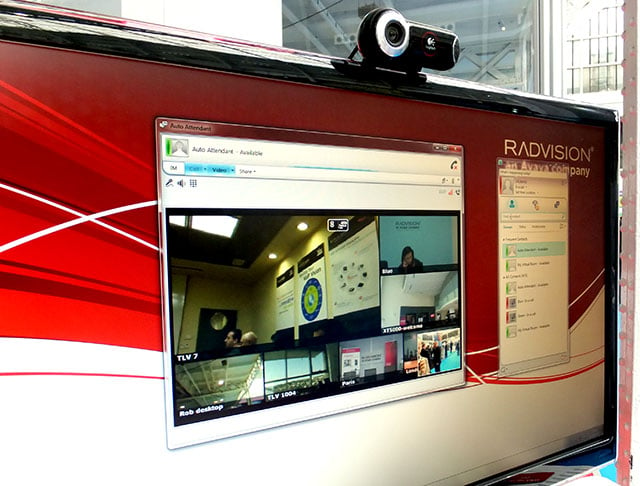 Radvision, now part of Avaya, aims to make the telepresence experience as seamless as possible. The company has interoperability well-covered, as it has been a major video port hardware vendor supplying OEM boxes for significant players in the industry
Polycom doesn't wander lonely in the cloud either. Andy Nolan, Radvision's General Manager UK and Ireland, is keenly aware of the costs involved per video port and while lower resolution options can scale the pricing and increase port capacity accordingly, the cloud offers an alternative for companies that don't want to make compromises.
When it comes to the initial deployment he remarks, "How do you know how much capacity you'll need as you haven't rolled out video yet? You don't know how many calls those 30,000 people are going to make. You have to make a guess. So that's where the cloud approach has a role to play. People can deploy this stuff initially and use service providers to overflow and expand the capacity. And that just becomes a random usage model.
"They can do it as a PAYG, they can subscribe to a capacity they've got reserved for them, or like your mobile phone contract and have say 1000 video minutes a month and a set price to use it. You could have an unlimited package – that's what this has enabled some of our service provider partners to offer, as the technology lends itself very nicely to that."

Radvision's Scopia Elite 6000 MCU handles HD 1080p/60fps, and supports H.264 (SVC) and H.264 High Profile
Certainly, teaming up with video conferencing tech companies appears to be the next big thing, no matter where they are based. Deutsche Telekom has partnered with US-based Blue Jeans Network and provides VideoMeet for UK customers running just about any platform. Similarly, Imago and Vidyo launched VaaS-t (Video as a Service - trade only) – a video connection with unlimited guest invitations for around £40 per month. As for the users Vickerage says, "I've yet to see people make calls between each other on mobile devices. It tends to be calls between mobile devices and meeting rooms. That's where the sweet spot is right now. So people can join from home, a remote office or a hotel and get more or less the same experience they can have if they were there."
Virtual functions
Another approach that is gaining acceptance to deliver capacity is hardware virtualisation, which has other advantages in terms of administration. LifeSize Sales Engineer Terry French describes the changes and the opportunities this delivers.
"If you look at traditional videoconferencing hardware, it's typically a tin box taking up space in a data centre – separately powered, provisioned, administered – typically a fixed capacity of some form. It might be a card box – fill that up and get another and so on. What we've done is taken that whole capacity and put that in a software virtualised appliance which we call the UVC platform. This is a single point of administration for all those video infrastructure devices."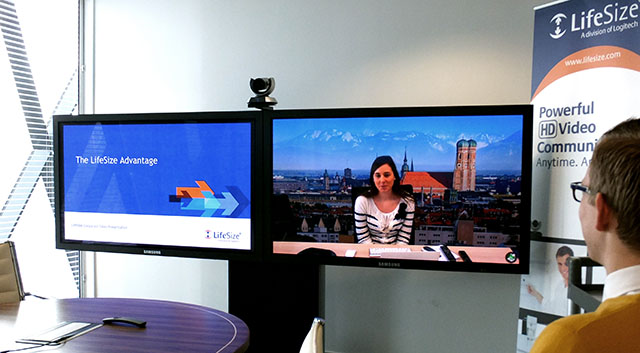 Now owned by Logitech, LifeSize offers its Icon series for fuss-free HD video conferencing with multiple users
Again, this is another buy what you need model and build your capacity as your video adoption grows. It's attractive to SMBs too, as there's no longer the need to invest in say, 16 ports of bridging any more, when they might only need a couple to begin with. As French is keen to highlight, "There's no MPLS here, no smoke and mirrors, just sitting on the open Internet." And up to 1080p/60. Needless to say, LifeSize is another SVC adopter, having begun with AVC in its early days along with native support for Microsoft's RTVideo – the codec utilised in Office Communications Server 2007. It's tempting to focus on Lync 2013 at this point but while we're on the subject of bridging, it's worth looking at Vidyo's approach, which dispenses with the traditional MCU (or bridge) and its associated costs. Vidyo's Fraser Dean takes up the story.
"If you're on a three way call, an MCU has to take in and decode all three streams and create one image that comprises of all three, you recode that and send it out to each of the participants. That's why you need the hardware oomph of those DSPs, yet it means the quality degrades and you add latency. As video becomes 'viral' and more and more users start accessing at their desktops, the problem is, can you afford to keep rolling out all of those expensive MCU ports to support all these desktop users? The answer is no, unless you have a software approach. So the equivalent component from Vidyo to an MCU is a VidyoRouter.
What we do with a video router is an application layer switch – a software switch. If we're on a three-way call, all that router is doing is receiving those video streams and then working out how much and how many of those video streams to pass on. It will do that based on the network conditions and the PC or device performance, and then scale how much data is sent. And that's what we refer to as Adaptive Video Layering (AVL). So we've got H.264 SVC, which is the enabler, but how we implement and distribute multiple video feeds is through our AVL technology."
Collaboration culture
All clever stuff and endorsed by Google too, as it uses Vidyo tech for its Plus and Hangout services. As the traditional market leaders develop even better interoperability along with the emergence of cloud solutions – to provide ways to offset the typically scary costs of high capacity ownership – telepresence is gaining ground for use in smaller room systems and on the desktop.
While Cisco and Polycom aren't going to write off those high-end telepresence suites just yet, Gartner predicts 200 million desktops will be video-enabled by 2015 and this is being driven by unified communications reach going beyond Instant Messaging and Presence (availability) but into telephony and telepresence. As aging PBX systems are replaced with IP phone offerings from the likes of Avaya, Cisco and Polycom, the video option becomes a consideration, as Microsoft's Steve Tassell affirms.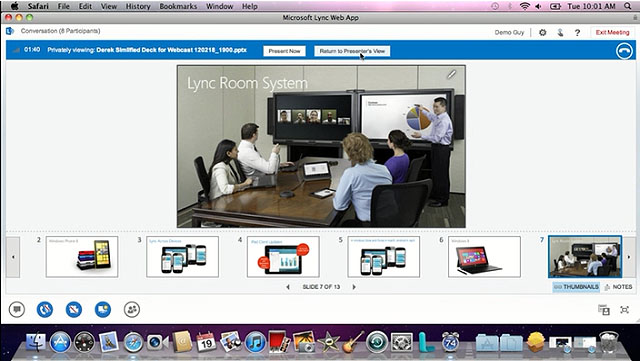 Microsoft Lync 2013 out of web access is designed to give the same meeting experience as its dedicated apps
"UC goes through bouts and phases and video seems to be the one people are focusing on at the moment. Certainly it's one that's important to us, because of the acquisition of Skype. We see that as a really important part of the business to develop for both for consumers and for commercial businesses as well. We always wanted to make videoconferencing cost-effective – to be able to roll out to the whole organisation – because if you can't, what's the point in having it? It shouldn't be just a boardroom. You should be able to carry it around and connect to anyone that way, and that's where we think it's going."
So it's in the boardroom, on the desktop and anywhere you happen to be on a mobile device. This is undoubtedly unifying but it's also confusing. Imago's Ian Vickerage sells this stuff and even he finds it a challenge.
"It's been redefined many times and nobody knows what telepresence is any more. Originally, it was TelePresence - capital T and P, that's how you knew it was Cisco. That expanded in definition, so now Polycom refers to all of its high end systems as telepresence which are nothing like $1/2m, more like $10k. Vidyo talks about 'personal telepresence' – that is on your iPad, so you're now dealing with a different beast. So we're in a kind of no-man's land, nobody is quite sure what the definition is any more – it doesn't help."
And depending on who you talk to, Unified Communications means different things too, but with all the major players bringing video conferencing capabilities to iOS and Android devices, the notion is evidently: have camera, will chat. Yet this brings with it a whole new array of challenges.
These corporate communications behemoths are having to deliver the same ease of use found on consumer platforms such as Skype and FaceTime, otherwise the apps they develop simply won't get used. While this is not so much a workers' revolt, there are certainly user experience expectations regarding the level of friendly functionality that should be available.
Bye-bye Silverlight, hello world
And if you need evidence of this, then take a look at the Microsoft Lync 2013 keynote. Here, Derek Burney Corporate VP for Lync Engineering demonstrates video communications on Microsoft apps for Windows 8 Mobile (31:43), Android (36:51), iPhone (38:52), iPad (40:40) and bringing up the rear, Windows 8 (43:20). Yet it's ironic that after a seamless and impressive demo, it was Windows 8 that brought it to a standstill at 46mins 55secs with it declaring stubbornly that the microphone was in use. Lucky then that Lync 2013 functions with so many alternative platforms including web access and, if you're keen, the latest Lync 2013 app for Windows 8 Mobile has arrived and is available for iPhone and iPad too.
According to Steve Tassell, the Android version will take another month or so to appear and Lync 2013 doesn't complicate matters by insisting on Silverlight either. Adobe has yet to cotton on though, as its Connect web conferencing platform, still relies on Flash on desktops.
The upshot of all this, is that the exclusive domain of boardroom telepresence is now being joined by remote workers on iPads – the preferred mobile choice because of its screen size – along with desktop video and laptops. So much for that insistence on quality that was the driving force behind those pioneering bespoke telepresence suites.
While the quality varies depending on even the simplest factors, such as lighting, it's no surprise that mobile devices are used and, typically, this video gets upscaled when viewed on larger systems. Depending on who you're dealing with, there is an associated hit on infrastructure, as these devices still need a port on traditional video bridging gear.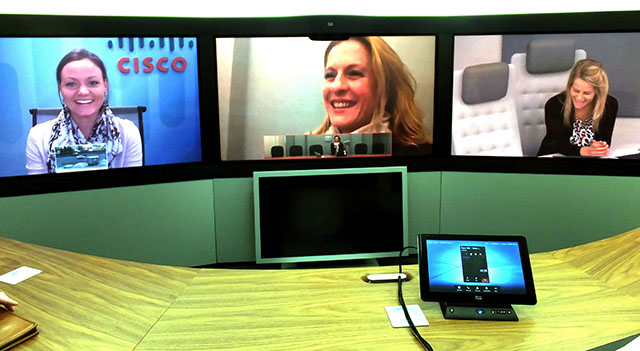 Cisco TelePresence suite: left image Cisco EX desktop series, centre image sent from an iPad, right image from Cisco MX series
Despite staying in the H.264 AVC camp, Cisco is able to accommodate popular devices and has a burgeoning portfolio of iOS apps, among them clients for Cisco Jabber (that supports one-to-one video communication) and WebEx Meetings for multipoint video conferencing and screen sharing. Indeed, from a software standpoint Cisco's Unified Communications offerings bear many parallels with Microsoft's Lync. The problem for Cisco is that Lync is being included as a feature of Office volume license agreements and it's an uphill struggle to shift that installed user base to a whole new ecosystem.
Again, the issue is about delivering integration that can ease minds focused on new deployments, as Steve Beckley, Director of Technical Marketing at Cisco highlights.
"We have a full integration with Lync 2010, there are two flavours of that. There's a native integration which is non-HD, but you've got to go to the proprietary protocol to get HD in Lync 2010. If you want that, the way we do that is through a piece of infrastructure which is called the Advanced Media Gateway. It makes it a little more expensive and slightly harder to scale."
The weakest Lync
So that's Lync 2010 accommodated, what about Lync 2013? According to Steve Tassell, Microsoft has made up its mind on its codec choices based on the way the wind is blowing in this market.
"SVC is what we're developing Lync 2013 to, we feel it will be the most commonly used. There will be in future iterations of that standard and we'll look to embrace those at the time, particularly around video interoperability." As for the H.264 AVC camp, he remarks, "With SVC we're making it easier for them to integrate the two. There are always vagaries with hardware support. I think we've certainly made it easier for the AVC guys to integrate Lync with those legacy platforms."
Legacy platforms? Ouch, that must sting a bit. So what's Cisco's answer to the H.264/Lync 2013 challenge? Cisco's Steve Beckley knows, but he's not giving away too much.
"We're going to have a dual strategy for Lync 2013 because we have Jabber, which integrates extremely well with all the other Cisco products, as you might imagine. So for a client who's not heavily invested in Lync, it's effectively a green field. Of course, we're going to propose Jabber and let them make that decision, and if they're going for a broad collaboration portfolio from Cisco, Jabber will probably make sense for them."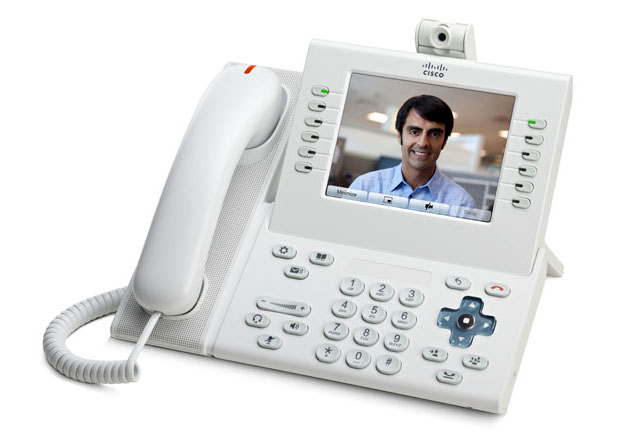 Video nasties: "Hi, if you have had an accident at work that wasn't your fault, then you could be entitled to compensation..."
"There are clearly going to be quite a lot of large companies who are heavily deployed in Lync – that's not going to be make commercial sense for them and maybe too disruptive from the end user point of view. So there's no question that we're committed to having a similar level of integration with Lync 2013 as well. 'Can it integrate with Lync 2013 so I can use these things seamlessly?' Then the answer will be 'Yes'. It's really where we are today with Lync 2010."
This raises the question: does this similarity with Lync 2010 mean the Advanced Media Gateway will still be required to deliver that functionality for Cisco products working with Lync 2013?
"It may or may not be the same paradigm about how we deliver that functionality," says a cautious Beckley. Now there's an answer that really leaves itself open to drawing your own conclusions.
Hard choices
Where Microsoft and Cisco very obviously part company in the Unified Communications space is with hardware. Microsoft might have the odd webcam, but when it comes to the desktop, it prefers to work with other partners such as Jabra and Logitech who can produce accredited hardware that, beyond being guaranteed to perform, can also convey presence status as well.
This is not unique to Lync deployments though. Logitech has recently introduced its UC Solution for Cisco 725-C – a suite of products featuring a mouse, keyboard and webcam that are designed to make the most of Jabber's features including dedicated keyboard controls for phone and video. The company even makes headsets that change colour to show when you're chatting or not. Whether we'll experience the death of the deskphone before this decade is out remains to be seen, but if the likes of Polycom and Cisco have their way, the softphone is coming with other likely replacements being videophones and headsets.
That said, they'll also be quite happy to sell you telepresence suites and dual function monitors that handle their respective video platforms along with desktop PC monitor duties. The level of sophistication is scaling too. The traditional bespoke telepresence rooms from Polycom and Cisco had separate displays for presentations. The idea being that you didn't become distracted by flipping screens and lose that intimacy of human interaction that these facilities endeavoured to simulate.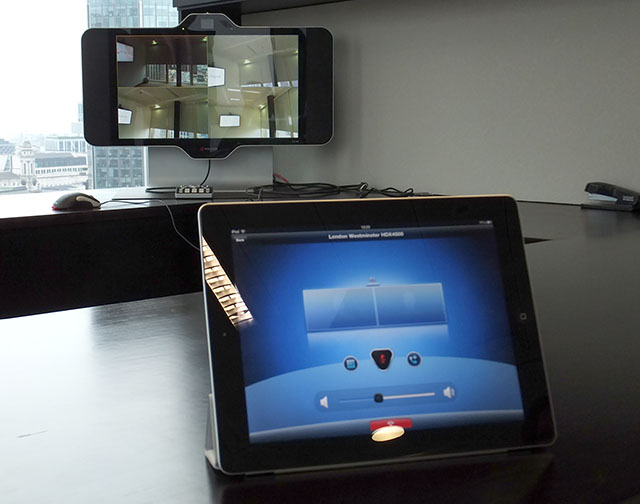 Transferring calls between devices to remain connected is seen as critical feature. Having shifted the call from the iPad to the HDX 4000 series desktop screen, Polycom's RealPresence mobile app now functions as a remote
Nowadays, just about anything with a display can join the party and touchscreens have the added benefit of user interaction, so remote callers can annotate presentations, adding red pen smears with a finger. Yet spend any time with these vendors and you'll notice the obsession now appears to be to maintain the call and transfer it across platforms. Polycom's RealPresence mobile 2.2 is pretty much state-of-the-art and naturally, you need a Polycom system with the latest software.
A typical scenario would be you began a Multipoint call on an iPad and rather than continue on that device, you decide to transfer call to a room system with Smart Pairing. This handshake uses Ultrasound and takes about 10 seconds to engage the RealPresence HDX 4000 series desktop camera/display combo. Now the Wi-Fi takes over and the iPad becomes remote control for the system.
Video conversion
This level of integration is all about maximising usage and increasing adoption. The vendors want video to become an essential aspect that adds "collaboration" to UC so it becomes UC&C. Unsurprisingly, all of them state that limiting who has video to a boardroom elite is not the way forward and under-utilises the benefits they claim this method of communication delivers. One virtue you hear time and again is that video meetings are shorter because everyone is paying attention: they're not checking emails while hanging on an audio conference call.
This interoperability between devices and platforms is a world away from costly systems of six or seven years ago. Although Imago's Ian Vickerage is quick to point out that there's still work to be done.
"Preaching and practice are still a little apart," he says. "Compatibility between videoconferencing systems is actually quite good. However, at the lowest common denominator level, you won't be able to get every feature of a high end system, but you will be able to communicate, you'll be able to show data at a good level. In Corporateland, there is a huge demand in the market to have compatibility with Lync. If you don't you then end up having a separate system completely, and things are messy enough. At the moment you have to live with Microsoft if you want to be in the corporate world, as Cisco are discovering."

There's an app for that: Telepresence embraces mobility with the iPad as its poster child.
Left to right: Cisco, Radvision, Vidyo, Polycom and LifeSize (ClearSea)
As the price of video collaboration descends and proliferates accordingly, its raison d'être has also transformed. It was originally sold as an exclusive corporate domain that would eliminate the need to travel and despite its own overheads would pay for itself by recouping the costs of business flights. Now every single one of these companies has apps for iOS and Android – and if they're not out yet, you can be sure they're in development. You'll even find the likes of Avaya and Polycom at Mobile World Congress – they've been coming for several years now, apparently.
The travel-free notion has long since gone and it's mobility that's driving this scramble to promote a video-enabled workforce. So what if you're looking up someone's nose as they peer at you from a tablet in a hotel room: it's not the quality, it's the taking part that matters now. As Radvision's Andy Nolan declares, "Everyone needs to have it, otherwise no one will ever use it." ®