Following a slump in sales of its disk drive array drawers, Xyratex is moving into clustered and converged compute, storage and networking HPC racks, with Cray as a lead customer.
The company has two businesses. The first is Enterprise Data Storage Solutions (EDSS), which provides hard disk drive (HDD)-based storage enclosures for drive array OEMs such as Dell, EMC, HP and IBM. The HDD Capital Equipment (HDDCE) division supplies process, inspection and test equipment used by HDD manufacturers.
The HDD manufacturing business has seen a contraction to just three suppliers: Seagate/Samsung, WD/HGST and Toshiba. It has also been affected, impacted really, by last year's disastrous Thai floods, and the previous Japanese earthquake and tsunami, and these three factors have caused fewer process, inspection and test machines to be bought by the HDD suppliers. Xyratex stated: "Demand for our HDD capital equipment products in 2011 was at a historically low level."
The EDSS business has and is being affected by a move by major OEMs such as NetApp and EMC to source some or all of their disk array drawers in-house or elsewhere – contract manufacturing for NetApp. This spurred Xyratex to focus on emerging storage array startups with disruptive technology which could become larger players. Pure Storage is an example of this newer customer type.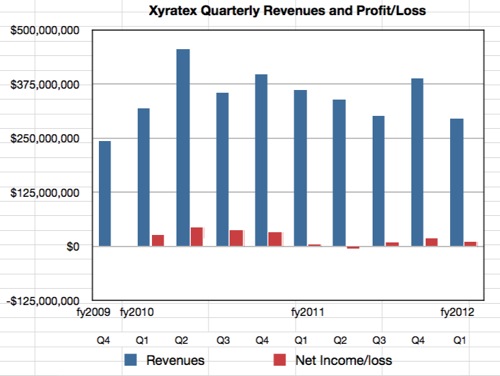 These changes have hit Xyratex hard, depressing both revenuess and the company's profitability. For its first financial 2012 quarter Xyratex recorded revenues of $295.7m and profits of $10.9m. A year previously the equivalent numbers were $360.5m revenues and a $4.7m profit. That followed, as the chart shows, four quarters with revenues of $319m, $456m, $354m and $397m, and profits of $26.3m, $43.7m, $37.2m and $32.3m. There has been quite a slump, culminating in the second 2011 quarter with a loss of $4.6m.
Fiscal 2011 revenues were $1.45bn, a drop from Fiscal 2010's $1.6bn.
Revenues are still depressed but profits are being made. CEO Steve Barber says that although EMC and NetApp are moving away from Xyratex, the company has broadened its OEM customer base for storage array drawers and gained a new OEM with an HPC product.
HPC and Blue Waters
A couple of years ago, Xyratex decided to develop a new line of ClusterStor appliance-like systems running Lustre. The firm was looking ahead to the coming breakout of high-performance computing (HPC) from its supercomputing scientific niche into more general use, the rise of cloud computing and also of big data, and the start of a trend towards converged compute+storage+networking systems.
This has achieved a good OEM win; Cray has taken it as a Sonexion 1300 supercomputer building block.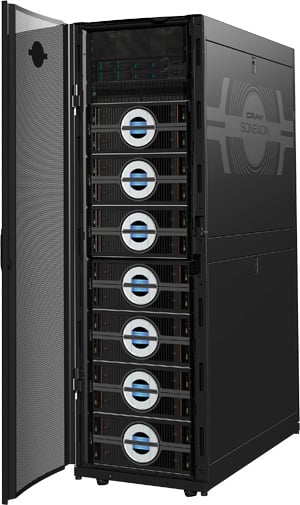 Cray Sonexion
Cray says it is "an integrated, scalable Lustre solution that is easy to install and maintain [and] combines powerful servers, the latest Lustre parallel file system and management software into a modular storage product that is built, thoroughly tested, shipped and supported as a complete solution... [It] will be a key part of the recently announced Blue Waters supercomputer at the National Center for Supercomputing Applications at the University of Illinois, and will provide more than one terabyte-per-second of aggregate bandwidth when fully installed in one of the largest capacity storage subsystems in the world."
Blue Waters will have a 25PB storage subsystem running the Lustre filesystem plus 500PB of nearline storage. In other words, Xyratex is now supplying supercomputer storage.
Rack-ability
What Xyratex has found is that HPC and big data and cloud suppliers want to move away from disk drive drawer building blocks – comprising controller boxes and expansion drawers – and move towards having rack-level building blocks. They want Xyratex to integrate the storage rack's compute, file system software, storage and networking componentry into a working, tested, easy-to-manage and supported rack which they can use pretty much as a plug-in building block.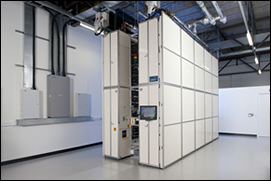 Xyratex Optimus test machine
Somewhat unexpectedly it found it had a lot of rack-level expertise already; the HDDCE business unit shipped large racks, such as the Optimus ones, crammed with process, inspection and test equipment to the HDD manufacturers. It already had engineers who knew about thermal engineering matters when building racks, cabling and power supply and vibration aspects of them as well.
Xyratex reckons that by combining expertise from the two divisions it has been able to develop and build racks populated with modular drawers of converged compute, system software, network and storage resources that combine high component density, such as 84 2TB drives in 5U, with reliable and relatively simple-to-manage operation.
This saves an end-user customer or an HPC supplier from doing all the necessary integration work themselves.
The possible development of this is the supply of running storage system racks for big data content and analytics to big data customers, and also basically the same racks to cloud storage service suppliers who don't want to bear the component integration and support burden themselves.
In this regard Xyratex's strong competitor is DataDirect Networks as well as Dell's cloud-scale data centre supply operation. However Dell is a Xyratex customer, via its Compellent and EquaLogic acquisitions, and there may well be Xyratex opportunities inside Dell.
Xyratex has stated: "We believe our enterprise data storage solutions revenues may fall in our 2012 fiscal year. Over the longer term our revenues with our major customers will significantly depend on our ability to develop and manufacture products that compete well with those provided by contract manufacturers and these customers' own development efforts."
Exactly so. Life just gets harder. But, it may well be that the rising Blue Waters' tide lifts Xyratex's boat and leads to renewed revenue growth: at least that's the hope at Xyratex's Havant HQ. ®