Be signs Sony
We knew it before, but now Be's allowed to admit it
Be has finally admitted that Sony has licensed its BeIA Net appliance-oriented operating system. Terms of the deal were not made public.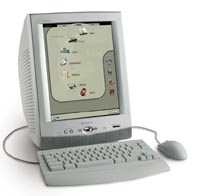 Sony will be using the software in its Mac-like eVilla appliance, which it launched earlier this year. At the time, Be said Sony would be using BeIA, the result of a "memorandum of understanding" reached between the two companies in March 2000. Sony, on the other hand, didn't explicitly say that it would be using Be's OS.
We wondered it Be had jumped the gun. Certainly it soon emerged that while Be's Web site had a page devoted to Sony, it wasn't listed in its index of third-party partners. When we pointed this out, Be yanked the Sony page. At the time of writing, it still wasn't there. Had it revealed its relationship with the Japanese giant too early? Was Sony severely pissed off with the developer?
Certainly its March 2000 deal with Be was "non-binding", so it was obviously done on the basis that Sony would develop product based on BeIA under evaluation and so wasn't committing itself to using the software. The eVilla Web site says nothing about Be. Perhaps Be jumped the gun a little with its January 'Sony uses BeIA' announcement.
Come Be's 30 January Q4 results statement, Sony had become known simply as a "major customer" - Be's first, interestingly enough.
Whatever, the two companies are friends now, and Be can tell the world about it. Sony has decided to use BeIA after all. While the eVilla Web site still says more information will be made public sometime in "Spring 2001", from the timing of Be's announcement, that update can't be too far off.
Whenever eVilla arrives, today's news is good for Be and its troubled finances. Now that the company is allowed to mention the fact, having Sony as a supporter should help it win further customers. ®
Related Links
Sony's eVilla site
Be's BeIA site
Related Stories
Be quarterly revenue falls to $16k
Be plucks HARP to target hi-fi world
Be takes new slant on Net appliance biz