Indian 'Simputer' to bridge digital divide
Basic PDA will bring computing to masses
---
In a nation where only nine in 1,000 people own a computer, a long-awaited device has finally been launched to bring the poor into the information age.
The so-called Simputer, a device which has been discussed and hyped for three years, was finally launched last week in India with a price tag of slightly less than INR10,000 (€187). The Simputer is a bare-bones handheld computer that is designed to allow poorer Indians to access the Web, email and other basic computer functions.
The device was developed in 2001 by scientists at the Bangalore-based Institute of Science, but a lack of interest among manufacturers and distributors held up the launch until Friday, when PicoPeta Simputers launched its Amida Simputer device. Encore Software is also licensed to make Simputers.
Y. Gopal Rao, CMD of the device's manufacturer Bharat Electronics (BEL), said: "It has been a long wait. But I am sure, and everyone will agree, after experiencing the product, that the Amida Simputer is worth the wait. BEL is fully committed to the success of this innovative product."
Professor V. Vinay, chairman of PicoPeta, added: "We have taken the first steps of an Indian product company building a global brand." PicoPeta has said that it hopes to sell some 50,000 of the PDA-like Simputer in the next 12 months.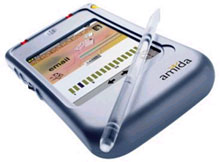 The Simputer features a 206Mhz processor, 64MB of memory and has an internal microphone, speakers and a lithium-ion battery that lasts for six to eight hours under normal usage. The device also comes with two USB ports, an infrared port and it has a 3.8-inch backlit touch screen.
On the software side, the device runs on a scaled down version of Linux and it has an Internet browser and supports e-mail. It can connect to the Net via a standard landline, or the machine can be hooked up to a mobile phone to connect wirelessly. Both the browser and the e-mail software were developed specifically for the Simputer.
Other features include an MP3 player, a photo album, a movie player, some games, an address book and simple finance management software. The device can also be connected to a special keyboard, or users can write on the touch screen, which will convert script into text with proprietary software. Simputer supports English, Hindi and Kannada.
PicoPeta said it would also sell a more advanced version of the Simputer, aimed at wealthier users, priced between INR12,150 (€234) and INR19,500 (€366).
© ENN
Related links