This article is more than 1 year old
HTC 'Tornado' Wi-Fi smart phone storms in
WLAN + EDGE
Details of HTC's next smart phone design has emerged, courtesy of Finnish site qtek.fi, which tracks HTC customer Qtek.
The design, dubbed 'Tornado', follows on from 'Hurricane', the handset better known as the Orange SPV C550, launched last month.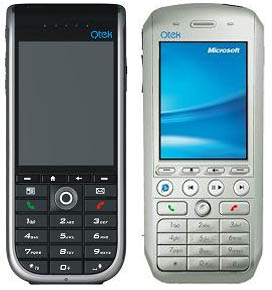 Tornado's biggest change over its predecessor is support for an optional vendor-selected Wi-Fi module. It also offers Bluetooth 1.2, as per Hurricane. The new handset also offers EDGE data support.
The new device is based on Texas Instrument's 200MHz OMAP 850 processor, and will ship with Windows Mobile 5.0's smart-phone incarnation installed on 64MB of ROM. There's 64MB of RAM, though some reports suggest it will contain only 32MB. Expansion comes courtesy of a MiniSD card slot.
Like the C550, Tornado sports a 1.3 megapixel digicam. The screen is a 2.2in, 65,536-colour, 240 x 320 job. It's got an 1150mAh battery, enough for five hours' talktime and 10.4 days' stand-by time.
Handset vendor Qtek is preparing two models based on Tornado - the 8300 and 8310. The former's styling is reminiscent of Hurricane, but the latter sports the 'standard' black SonyEricsson-esque design. ®