LG has begun punting its GBW-H10N Blu-ray Disc burner at UK buyers, pitching the product's 4x 25GB BD-R write speed - double the more commonplace 2x speed provided by rival suppliers' drives.
There's a catch, alas. The GBW-H10N writes rewriteable BD-RE at the standard 2x speed and won't burn dual-layer Blu-ray media, either BD-R or BD-RE, both of which deliver 50GB of storage space.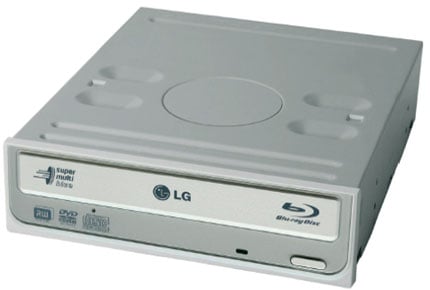 That said, the ATAPI-connected internal drive will also read and write all the common DVD formats, including dual-layer discs, and CD-RW.
Separately, LG also launched a pair of DVD burners, the GSA-H22NB and the GSA-E10L. The former is an 18x internal unit that, again, handles all the DVD formats. So does the GSA-E10L, though it's only a 16x unit - it's an external unit. However, it does support LightScribe disc labelling.
The GSA-E10L will retail for £70 - the GSA-H22NB costs £50. LG did not provide a price for the GBW-H10N. ®
Sponsored: Ransomware has gone nuclear