IPTV/VoD: How to set up your own home/office system
It's dead easy, mate
Industry comment There's a secret many people in the IPTV/VoD industry don't want you to know. Setting up an IPTV network is actually incredibly easy. In fact, almost anyone can do it. But if you knew that, you'd build your own and no one would make any money by selling you proprietary products with huge mark-ups.
IPTV networks are basically intranets, only the web browser isn't on a PC, it is on a set-top box. If you've set up an intranet or public website, you can set up your own IPTV network and do what you want with it. You don't need massive and expensive servers, specialised set-top boxes or overly large development teams working with complex software. With the right hardware and software, it should take you less than a few hours.
But why would you want to build your own?
Maybe you could, and/or want to:
Create an internal TV system for training, advertising or information display;
Create an IPTV showcase for your clients so they can visualise opportunities;
Evaluate current IPTV technology without massive expense;
Convert your existing client websites and applications to IPTV versions;
Cross-train your web developers so they have IPTV skills;
Simulate a real IPTV network to test applications and ideas;
Put your products and services on an IPTV demo platform;
Build a great new idea or application that would work well on IPTV;
Integrate your current web-based systems into an IPTV environment (e.g. VoIP)
This is what we're building will eventually look like: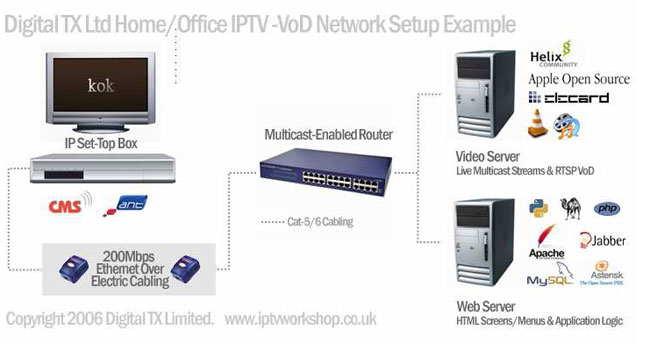 Doesn't look too difficult does it? Let's get started.
What you'll need:
A TV
An IP set-top box
A multicast-capable router
A web server
A video server
Two x PLC Adaptors
Sample video material
In this guide, we're going to be cheap and cheerful, using free open source software (FOSS) where we can. We'll also be adhering to open standards wherever possible. Our HTML screens and menus will be housed on an Apache web server running PHP, Perl, Python and MySQL, and our video will be encoded in MPEG-4 H.264 AVC, packaged in a simple MPEG-2 transport stream. We'll stream out our video with VLC and Helix Server.
Naturally you can exchange any of those for something else that does the same thing, for example, WM9/IIS/.Net/SQL Server instead of MPEG-4/Apache/PHP/MySQL.