Review Video content on mobile phones today is rich and diverse, but the cost is also rich and diverse - with an emphasis on rich. Are there any affordable alternatives to watching a variety of video on mobiles and other portable devices? SanDisk seems to think so...
SanDisk announced the V-Mate at Berlin's IFA 2006: a dinky device that can record video to various types of memory card for playback on mobile devices. Handy that, since SanDisk manufactures a wide array of memory cards. That's its angle, as simple as that.

The unit has the appearance of a plain card reader, which it can be, if you want, connecting to a PC via a USB cable. The V-Mate can handle any SD, MMC and Memory Stick PRO cards – only CompactFlash is off the guest list. This isn't a huge loss, but there's still a range of handhelds that will be left incompatible.
The V-Mate takes a composite-video input, converts picture and sound to digital, and writes the resulting video file straight to the memory card without any PC intervention. It sounds straightforward and is pretty much just that. Two cables plugged into the rear, one for the input signal - VCR, DVD, Freeview, Sky or Telewest/NTL box - the other for TV output so you can view the recording or just for set-up and scheduling.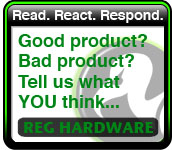 Here's where we hit a minor problem. Not many video sources have a composite-video output. What's needed here - and is sadly missing from the box - is a composite-video to SCART adaptor. Realistically this is the only way to get a signal to the unit as no Sky, Telewest or Freeview unit we could find has composite-video output.
After this hurdle is overcome, setting up recording is elementary. The V-Mate boots and requires time and date to be entered via remote control. This is used to name video files, which are just the time and date. No other alternatives are possible. A minor quirk is that every time the power is lost, date and time has to be re-entered, which can be tiresome. For this review we kept the unit on standby when not in use – as it functions as a pass-through for the video signal.