This article is more than 1 year old
Commodore specs up Cxx games machine
C64 emulator on board
CeBIT Commodore's eagerly anticipated Cxx gaming PC will sport an Intel Core 2 Extreme four-core processor, a pair of 768MB Nvidia GeForce 8800 GTX graphics card and a Creative X-Fi soundcard, the company revealed today.
What it didn't say up front was how much all this gaming hardware - fitted inside a casing covered with one of a half-dozen or so painted 'skins' applied to the interchangeable front and side panels - will cost.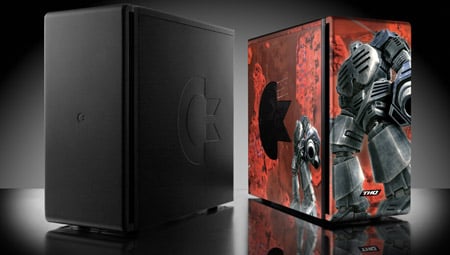 The machine's specification also inlcudes an Asus P5N32-E motherboard based on Nvidia's nForce 680i SLI chipset. Each system has 4GB of Corsair Dominator DDR 2 memory clocked at 1066MHz. There's a choice of hard drives: two 150GB 10,000rpm boys in RAID configuration, or a single 500GB 7200rpm job.
Running on top of all this: Windows Vista Ultimate. Keeping it supplied with power: a 1,000W ICE Cube PSU. Not a machine for folk concerned about their carbon footprint, then.
This is the top-of-the-line Cxx, of course - Commodore Gaming will also offer three lesser machines, right down to an entry-level model, the Cg. The in-betweeners are the Cgx and Cgs.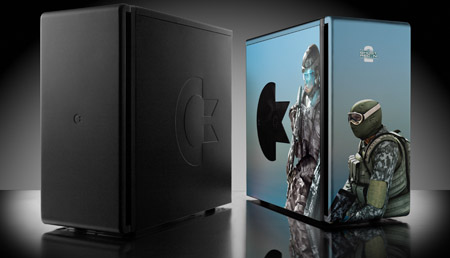 That Commodore line-up in full
All four boxes can be given a personal touch, thanks to a choice of casing decorations. And users can control two multi-colour LEDs inside the case's side-mouted fans to "enhance the mood with an ambient glow", as Commodore put it.
The four systems all have a C64 emulator ready installed on their hard drives along with 50 "classic" games, the company said.
Commodore said the machines will come with a two-year service and parts warranty. The machines are due to go on sale later today.