Samsung now purports to be the largest producer of high-capacity solid-state drives (SSDs) in the world, following a decision to push its 1.8in 64GB unit into mass production.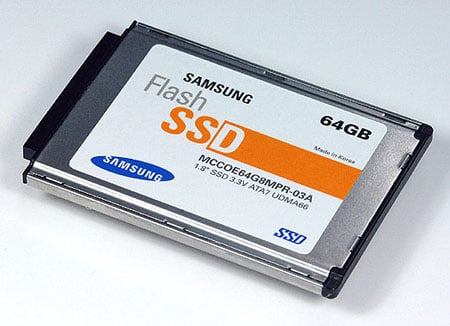 The manufacturer has been touting SSDs for over a year now, but this is the first time it has mass produced the 1.8in drives. The production ramp-up comes less than one week after Toshiba announced its lightest ever laptop, which features a 64GB SSD.
Samsung claims SSDs are increasing in popularity, thanks mainly to their greater reliability, faster data-access times and reduced battery consumption, compared to standard HDDs.
The SSD market is becoming increasingly competitive. Samsung's 1.8in 64GB SSD was announced in March, just two months after SanDisk showed off a 1.8in 32GB SSD.
Dell has also begun offering its customers SSDs, though not to the extent of Toshiba, by allowing buyers of its Latitude D420 sub-notebook to kit out the machine with a SanDisk 32GB SSD.