This article is more than 1 year old
Yes! It's the USB typing-speed indicator lamp!
Many fingers make light work, etc...
If only Pitman's typing training courses provided its pupils with one of these puppies: a Japanese-made USB lamp that shines with varying intensity and hue... according to how fast your fingers are cruising over your keys.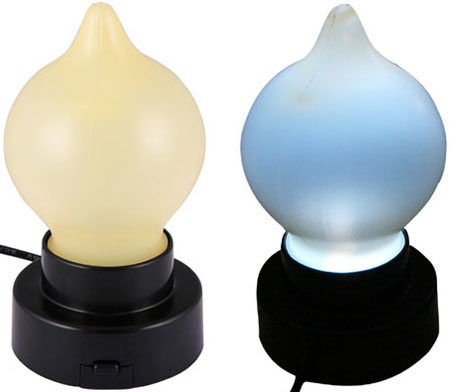 A slow typist (left) and a faster typist (right)
The USB Typing Measurement Lamp weighs 58g, and is Windows 2000 and XP compatible. Supplied software detects how fast you're typing and shines at five levels of brightness according. So if you're something of a hopeless case when it comes to QWERTY, don't expect this gizmo to give out too much light.
The lamp is available here now, priced at ¥1980 (£7/€11/$16), but no light has yet been shed upon a European release date or price.