This article is more than 1 year old
Speedy evolution saves blue moon butterflies
Eye blinkingly fast
Researchers on the island of Samoa have witnessed evolution in action, as the population of male "Blue Moon" butterflies has returned from the brink of extinction. The researchers, from Berkeley University, put the resurgence of the species down to an evolutionary arms race, in which the butterflies' latest weapon is a gene that fights off a parasite.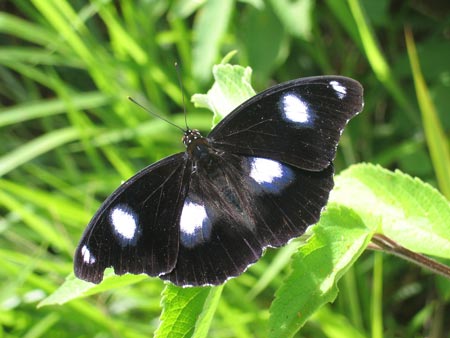 The male 'Blue moon' butterfly. Image credit: Sylvain Charlat.
Six years ago, the male Blue Moon butterflies made up just one per cent of the species. The cause was a parasitic bacteria, Wolbachia. The bacteria is passed down by the mother and selectively kills male butterflies before they have a chance to hatch.
But despite continued infection with the bacteria, the males of the species are now back at 40 per cent of the total population.
The key lies in a gene that holds the bacteria in check. The gene is so successful that it spread throughout the entire population of butterflies within 10 generations - over the course of a year, according to the paper published in the 13 July edition of Science.
"To my knowledge, this is the fastest evolutionary change that has ever been observed," said Sylvain Charlat, lead author of the study and a post-doctoral researcher with joint appointments at the University of California, Berkeley, and University College London.
"This study shows that when a population experiences very intense selective pressures, such as an extremely skewed sex ratio, evolution can happen very fast."
The team is not certain of the origins of the saviour gene. It could have emerged through random mutation, or it could have been introduced into the population by a migrating butterfly.
"Regardless of which of the two sources of the suppressor gene is correct, natural selection is the next step. The suppressor gene allows infected females to produce males, these males will mate with many, many females, and the suppressor gene will therefore be in more and more individuals over generations," said Charlat.
The researchers say the discovery illustrates how quickly a species can respond to an evolutionary pressure and, more generally, how important parasites might be as an evolutionary force. ®