Epson P-3000 photo viewer and media player
The iPod for digital photography buffs?
Review Epson is probably not the first name that springs to mind when deciding which PMP to buy, and its P-3000 - a numerically and technically updated version of the company's well-received P-2000 - provides a slightly askew interpretation of what's traditionally expected from a portable media player.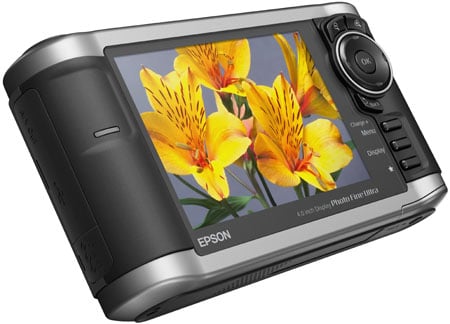 Epson's P-3000: more picture viewer than video player?
Instead, the P-3000 is more a portable multimedia storage viewer, but PMSV doesn't have quite the same ring to it as PMP.
The smaller of two devices - the bigger sibling, the P-5000, offers an 80GB hard drive compared to the P-3000's 40GB - the P-3000 has received a total makeover from its predecessor, with a slicker and sexier design, better control system and much-improved display, more of which later. We plumped for the less capacious of the two simply because of the lower, more accessible price point: £350, compared to £500 for the P-5000.
The first thing newcomers to the Epson range will note is the P-3000's size and weight. This is no Archos 605 - reviewed here - in terms of svelte, pocketable brilliance. If you're carrying the Epson in your bag or (very large) pocket, you're going to know about it. Measuring 15 x 8.9 x 3.3cm, give or take, it weighs in at a hefty 426g.
Once the back pain has eased, however, and you take the time to examine it up close, you realise that the P-3000 has been endowed with a comprehensive and logical design. The 4in LCD dominates the front, but wherever there's an inch of space available you'll find control keys, connections or card slots aplenty.
Build quality is absolutely rock solid too, and the curvaceous new shape makes it extremely easy to grip and hold securely, with the raised and tactile buttons responsive and easy to use. For use 'in the field' or on the move, it's perfect.
One of the areas Epson has really concentrated on is the P-3000's screen - sorry, "Photo Fine Ultra LCD Viewer". It's certainly good enough for professional field use and supports most image files, including Raw, Adobe's DNG and JPEG files.