This article is more than 1 year old
Hitachi scales Universal Storage Platform for the midmarket
HDS Virtual storage gets thin provisioning
Hitachi Data Systems is scaling down its Universal Storage Platform V system to target the virtualization needs of the mid-range market.
The company announced yesterday the Universal Storage Platform VM - a slimmer storage device that still boasts a feature set such as thin provisioning, heterogeneous virtualization, tiered storage and the ability to handle file and block level data.
USP VM is set to replace the TagmaStore NSC55, the company's midrange box that lacked thin provisioning. The new box offers 72TBs of internal Fibre Channel storage and supports up to 96PB of virtualized storage across multi-vendor 4 Gbit/s Fibre, iSCSI, NAS or mainframe environments. The company boasts the 10U form factor doesn't require a raised floor data center and operates on the industry-standard 220-volt power supply.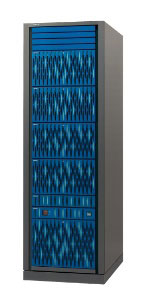 Hitachi USP VM (single cabinet)
Despite their target set on the mid-market, HDS risks missing the mid-tier mark by lacking support for internal SATA and SAS drives. The requirement of Fibre disks may prove to be steep chasm between high-end and SMB coffers.
The rackmounted platform offers the same service available to the USPV: Hitachi's Dynamic Provisioning software, Universal Volume Manager, large logical storage pools, and Hitachi Virtual Partition Manager. The system also has added support for VMware ESX Server 3.0 - an interesting, if not logical move, considering the platform is owned by HDS rival, EMC.
According to the blog of Hu Yoshida, Hitachi's CTO, the USP VM can be purchased with internal disks or stand alone as a storage virtualization control unit.
"This is not to be confused with virtualized SAN appliances which do volume management in the SAN," Yoshida writes. "The USP VM is a full function storage virtualization control unit that does more than volume management. It also is not dependent on the SAN and can support mainframes as well as NAS and Content Archive applications."
USP VM is in beta now and will be generally available in October. Pricing starts at $60,000 for a controller-only version.
Sun has concurrently announced its plans to resell the USP VM as the StorageTek 9985V Enterprise Storage System. Hewlett-Packard will also get in on the resell gig with the HP XP20000. ®