Hackers brazenly posted sensitive information including home addresses and phone numbers for 1,200 eBay users to an official online forum dedicated to fraud prevention on the auction site.
The information - which also included user names and email, and possibly their credit card numbers and three-digit CVV2 numbers - was visible for more than an hour to anyone visiting the forum. The miscreants appeared to create a script that caused each user to log in and post information associated with the person who owned the account. The script spit out about 15 posts per minute, starting around 5:45 a.m. California time.
An eBay spokeswoman said the posts were most likely the result of account takeovers and not of a security breach on eBay. She also said the credit card numbers contained in the posts were not those eBay or PayPal had on file for those users. eBay representatives have begun contacting all users whose information was posted to head off any further fraud and to learn more about the attack.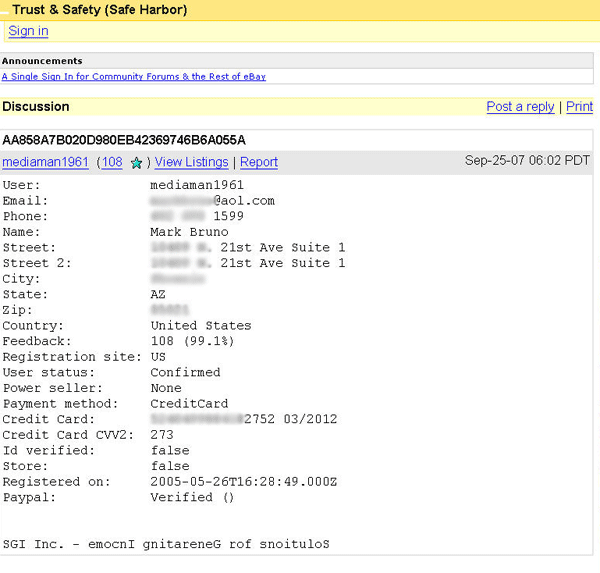 This screenshot, showing account details for eBay user Mark Bruno, was one of 1,200 posted to eBay's Trust and Safety discussion board over a 90-minute period on Tuesday morning.
eBay was forced to close the Trust and Safety forum for several hours to prevent the information from being accessed. The board serves as the official forum for eBay to educate users about fraud.
"At this stage all we can confirm is it's not a security breach from eBay," spokeswoman Nichola Sharpe said. "The teams have been on the case from the minute they saw it up there this morning. We're doing all we can to monitor it and keep on top of it."
Black eye for eBay security
With 204 million registered users, the 1,200 accounts represents an tiny fraction of the eBay population. Even still, the incident underscores the volume of information related to eBay users that's available to malicious hackers and the ease with which they are able to get it and publish it.
It is only the latest black eye for eBay's security team. On at least three occasions earlier this year, a hacker who calls himself Vladuz was able to access restricted eBay servers so he could pose as an official customer service representative in user forums.
Indeed, Tuesday's postings were affixed with a signature that read: "SGI Inc - emocnI gnitareneG rof snoituloS," part of which is "Solutions for Generating Income" spelled backwards. Vladuz was known to use the same phrase on websites he was affiliated with, though there is no way to know if he is the individual behind the latest stunt.
The Register spoke with two people whose details were posted. Both confirmed that their accounts had been taken over in the past by someone who used their accounts to advertise tickets to February's Super Bowl game, but failed to deliver them after buyers sent them money.
Once more unto the breach
Mark Bruno, one of the users, said he has changed his eBay password "two or three times," only to learn later his account has been breached again.
Bruno was at work when contacted, and could not immediately confirm if he owned a credit card with the number contained in a post. The other user was also unable to say if the credit card number attributed to her account was hers.
At the moment, it's impossible to say if the credit card numbers were simply made up, or if they belong to the individuals and were simply cross-referenced from another source. Either way, it's tough to know why someone would go through the trouble of culling information associated with 1,200 eBay users and publish it smack dab under the noses of eBay's security team.
"They could be boasting or bragging to bolster their nickname in the underground," said Dan Clements, president of CardCops, a division of the Affinion Group that monitors online forums for stolen credit card information. "It could be some sort of vandalism. It could be an in-your-face type event for eBay. Until you dig deeper, it's hard to say." ®
If you have information about this incident or other security-related matters, please contact Dan Goodin using this link.