New improvements to the high speed Internet2 network infrastructure are completed and primed with 100Gbps capacity for US research and education communities.
The updated network's wrap-party was at Internet2's annual Fall Member Meeting today in San Diego. The company showed off its new Dynamic Circuit Network (DCN), which, beginning January 2008, will let US researchers provision up to 10Gbps of dedicated bandwidth on demand. Internet2 will also continue to provide its advanced IP network, which supports IPv6, multicast, and other high-performance network technologies.
Applications for the network include medical researchers developing virtual surgery techniques and using dedicated circuits for direct short or long term connections to supercomputing facilities. More to the point: they won't let you play Team Fortress 2 on it. They'll also urge you not to set a mattress ablaze near their cords too.
A moment to pick up the pieces of your broken heart.
"Today's milestone marks the completion of an ambitious effort to exponentially increase the capacity and flexibility of the networking resources available to serve the rapidly changing needs of the Internet2 community," said Doug Van Houweling, Internet2 CEO. "More importantly, we believe the Internet2 Network and its new capabilities will play an integral part in enabling our members to provide robust cyberinfrastructure our community requires to support innovative research and eduction."
The new infrastructure provides a path for increasing wavelengths and bandwidth as required by its users. Internet2 said currently ten 10Gbps links are provisioned on each segment of the network, but can be scaled to 20, 40 or 100 or more wavelengths as required. They're currently working with Level 3, Ciena and Juniper to develop 40 and 100Gbps technologies. ®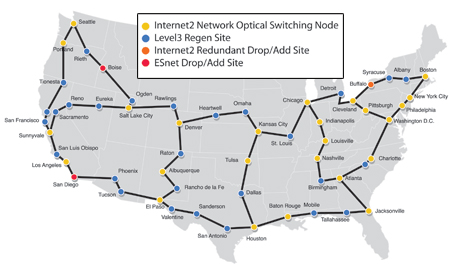 Click to biggify