Apocalypse Postponed: Google's dog didn't bark
The view from the LiMo window
---
What a pity Andy Rubin's charming Welsh Terrier can't talk. But that makes "Alex" Rubin the perfect spokesperson for Google's phone software.
In two videos on the new Open Handset Alliance site, the dog had as much information to impart as anyone else - which is to say, not very much at all.
The other video features kids talking on the theme of "If I had a magic phone".
No, really.
You can find the videos here [dog] and here [children] - but we'd better warn you, the "cute" control has been turned up to 11, and the exercise is a huge joke at the viewer's expense.
But what a laugh they must have had making them, eh?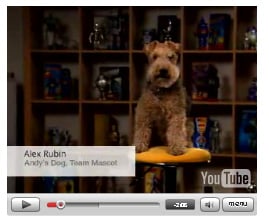 Not saying much: Google spokesdog "Alex" Rubin
So Android has a very familiar ring to it - and it doesn't justify the near-panic that preceded the announcement. It was widely tipped that Google's ad revenues would help subsidise the cost of the handsets, giving them a price advantage over commercial and Linux-based rival platforms. That's not the case - or at least, not yet.
The industry reaction has matched the underwhelming announcement. Microsoft and Symbian responded that they've been making software for phones for years. Palm and Apple said they viewed Google's OHA alliance as an essential partner - not a rival. They'll gladly use the applications, but have their own way of doing things. (OEMs like Palm with established Linux commitments can use the framework, yet still continue to use their own kernel, of course.)
Ovum's Martin Gardner was bluntest of all:
"For consumers there was only vague utopian waffle about cheaper, more powerful devices, running better and more innovative software starting from H2 2008. Too much was made of delivering "inventions we don't even know about yet".
Ouch.
But what of the major Linux phone platform, the LiMo Foundation?
This has Vodafone and NTT DoCoMo as carrier partners, and Motorola, Samsung, Panasonic and NEC as OEM partners. That's a strong Japanese contingent - and it doesn't harm the cause having the No.2 and No.3 vendors onboard.
But as of last week, LiMO had also produced some real phones, the Foundation claimed - in the shape of the DoCoMo n905 and p905. A little suprisingly, the Foundation executive director Morgan Gillis explained that he didn't see it is a competitor.
"It's Google vs Microsoft, and Google vs Nokia. It isn't Linux vs Linux," he told us.
"Google isn't a mobile Linux initiative per se - it's about making a service and application framework available to the industry. That's Google's area of focus, and it's serving up all of that in a Java SDK. Within the software stack Google has open Linux middleware available to parties who use it - but I'm sure they are platform agnostic about how the Java SDK is deployed," he said.
"I doubt it has any ambitions to be the middleware provider to the whole industry."
Like Google, LiMO aims to create a bedrock of software from the kernel up, to give away to manufacturers. There was no point in competing at the kernel level, he said, when the value and differentiation lie higher up the stack.
"Three years ago the middleware was the point of differentation between manufacturers - it's not now. The value line has moved up and now lies in the user experience."
The UI is one area he thought Google's arrival would be beneficial: "It's a wide open opportunity, because nobody has perfected it yet."
He doesn't sound like a worried chap. Should he be? ®