Qinetiq wins Watchkeeper drone test contract
Flying porkbarrel-bot heads for Wales
---
The UK's ongoing effort to develop a domestic flying-robot business - and, incidentally, to supply a small number of such robots to the British forces - has handed out some more nourishment to the arms-tech biz.
It was announced on Friday that ground and flight testing for Project Watchkeeper will be handled by Qinetiq, the controversially privatised defence research outfit.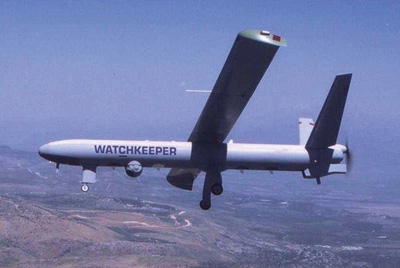 Watchkeeper. 'A major coup for Wales'.
The drone programme is described as "the £800m Watchkeeper project" by Qinetiq, but in fact the latest National Audit Office report lists the forecast cost as £901m. For this sum, the British army will receive just 54 robot aircraft, according to the Ministry of Defence (MoD).
That puts each fairly small, unarmed Watchkeeper at nearly £17m. That's almost enough to buy a much larger, much more capable Predator-B/Reaper from the States - as in fact the Royal Air Force has already done. The Army has also bought smaller off-the-shelf Hermes 450s from Israel, finding itself unable to wait years for Watchkeepers. Both these systems are already in service above Iraq and Afghanistan.
The reason why Watchkeeper costs so much for such a relatively unimpressive set of specs is that the project is being run as much to develop the UK drone industry as it is to equip the armed forces. In particular, Watchkeeper is expected to boost the new robotport in Wales, ParcAberporth. This is where Qinetiq will do the Watchkeeper flight trials.
The Welsh government is understandably delighted about the whole thing.
"MOD's decision to site Watchkeeper test and evaluation in Wales reinforces the role of ParcAberporth as a site of worldwide importance for unmanned system development," said Rhodri Morgan, First Minister of the Welsh Assembly.
"This is a major coup for Wales... Watchkeeper... will provide a significant beneficial impact to the regional economy... this programme will act as a springboard for attracting other UAV and aerospace technology businesses to the area."
To anyone familiar with the long and doleful relationship the MoD has had with other UK regional arms-technology centres, this has an ominous sound.
The lame-duck helicopter factory at Yeovil springs to mind, actually. Yeovil's existence has been a deadly millstone around the neck of British helicopter capability for decades, ensuring that the UK forces have mostly been compelled to buy wildly overpriced and usually not very good rotorcraft; and then endure lengthy delays before they turn up.
In a typical Yeovil helicopter deal, it usually turns out that each worker whose job gets preserved could have been paid off to the tune of £500k or even £1m; the forces could have had alternative aircraft, as good or better, sooner; and still money would have been saved overall.
The Airbus factories at Bristol and Broughton have similarly meant that Blighty is still waiting for Airbus A400M transport planes, each of which is to cost £105m+ on current NAO projections. The wait for A400Ms, like that for Watchkeeper, has been so long the MoD has been forced to buy hugely more powerful C-17 airlifters from America anyway (the sixth Brit C-17 has just been ordered, for £130m. It can carry almost three times what an A400M can, and it's faster too).
British helicopter and transport-plane capability are two of the most serious equipment weaknesses the UK armed forces currently suffers from. Unless ParcAberporth and the rest of the quickly-building British roboplane base is somehow very different from everything that has gone before, we're headed down the same disastrous road with unmanned aircraft.
There's nothing wrong with subsidising industry, though it would probably be good if that industry was one which didn't require a constant flow of sweetheart deals from the government to stay onshore.
There's a lot wrong with taking regional subsidies out of a seriously overstretched defence budget, however. The urge to maintain British arms-tech workers on decent pay is now - literally - starting to mean that the MoD can no longer afford to hire British soldiers.
As for the jobs here in the UK regions, politicians who think that this sort of thing lasts should look at the long decline of BAE Systems' UK workforce, and the way that company has for its entire history moved UK taxpayers' capital out of the country (selling off the Airbus wing factories, among other things, so that those jobs aren't even safe despite the huge efforts to keep them so).
In this light, the Watchkeeper programme resembles not so much an aerial combat robot as a fairly blatant short term vote-buying exercise.
Pigs can fly, it seems; robot ones, anyway. But only once they're dead, salted, and in the pork barrel. ®