The Electric Car Conspiracy ... that never was
What a hit movie really tells us about innovation
---
By 2003, the date at which 10 per cent of new vehicles were meant to be zero emission, CARB chairman Alan Lloyd ended the mandate. Failing to declare his recent appointment as chairman of the California Fuel Cell Partnership, Lloyd made sure that the chimera of hydrogen cars occupied everyone's attention, and so gave the green light for GM and rival electric car essayists - Ford, Toyota, Honda - to shred their fleets.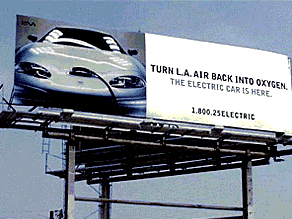 GM promotes its electric car, EV1
It's the familiar Democratic charge sheet of corporate venality, shortsightedness and friends in high places. The indictments are filmed with visual panache, but you know from the start what the verdict of this trial will be.
Morality and motoring
In 1959, the activist Ralph Nader first published an article attacking the US car industry for selling lethal products. Nader's 1965 book Unsafe At Any Speed: The Designed-In Dangers Of The American Automobile went on to become a bestseller. Since those years Democrats have urged a health-obsessed nation to see the car not just as liberation, but also as medical nemesis.
Who Killed the Electric Car? is of a piece with all this, and of course Ralph Nader, along with a number of graying Democrats dating back to the Carter era, makes more than one appearance in the film.
Still, at least Nader makes the most penetrating accusation: that, since 1939, there's just been too much money to be made in the technological stagnation of the internal combustion engine for carmakers to want to do more than dangle electric vehicles in front of us from time to time. And the film backs this damning verdict with a chart showing how Corporate Average Fuel Economy (CAFE) miles per gallon have stagnated at about 27.5 for the past 20 years.
But wait a minute.
The internal combustion engine has registered major gains in efficiency over recent decades. What has happened is that those gains have appeared not in fuel economy, but in vehicles that are larger and heavier.
Who Killed the Electric Car? explicitly suggests that GM made a bet on the profitable Hummer rather than the EV1. No doubt this is true; but the fact remains that capitalist innovation, though too slow for my taste, has certainly been going on in conventional automotive engines over the past few decades.
Of course, Green Democrats hate Hummers. In the movie, a dissident GM exec says that the company felt 'schizophrenic' about the dichotomy between clean electrical efficiency and something... 'suburban'. The car-buying tastes of Middle America are further lambasted when the film insists that US consumers are also guilty of killing the electric car. Why? Because, apparently, they don't want to drive like Europeans. In other words, Americans refuse to drive short distances in small cars free of luggage.
And there's the rub.
The electric horse didn't suit this course
Throughout Paine's film, various figures are quoted for the fuel economy and range of electric vehicles. Something is said of acceleration, but very little is said about speed, and nothing about vehicle weight or family size.
The reason is simple. The average daily journey of Americans by car may be modest, but holidays and other trips demand a long range, just as coping for relatives demands more than a two-seater. And however one's sensibilities might be offended by the Hummer, the fact is that the engine inside it will be way more efficient than an electric vehicle for a lot of years to come.
In other words, the electric car wasn't murdered - it didn't simply didn't suit consumers' needs. But there's also another dimension to this fable with implications for technology innovation.
Carbon in the tank, unlike carbon in the air, is a brilliant and brilliantly compact creation. As a portable transport solution, oil-based fuel is, for the moment at least, technologically far superior to heavy batteries. Weight for weight, it carries a much bigger energy punch.
The brilliant bespectacled battery engineer Alan Cocconi, who is featured in the film, has come up with a lithium ion battery that appears to store 463 kiloJoules of energy per kilo - an energy density better than nickel metal hydride batteries (250 kJ/kg) can ever hope for, but still 100 times behind that of petrol (44,400 kJ/kg). Perhaps battery researchers at Stanford University will get the difference in energy densities down from 100 to 1 to 10 to 1; but the fact is that oil-based fuel has more than profitability going for it.
We don't hear much about that in Who Killed the Electric Car?. Instead, loss of health, and loss generally, are the unstated themes, making it a true companion piece to An Inconvenient Truth. The film features a funeral for the electric car, complete with bagpipes (the event was held to 'raise public awareness' about electric vehicles, natch). At least two of the electric car's supporters are close to tears about its demise.
What a pity that Paine's film prefers Hollywood hyperbole and conspiracy theory to explaining the chemistry and physics of different means of propulsion. Emotional feelings shouldn't substitute for engineering fact. ®
James Woudhuysen is Professor of Forecasting and Innovation at De Montfort University, Leicester and a contributor to Spiked.