This article is more than 1 year old
Tarantino plans Faster Pussycat! Kill! Kill! remake
Starring Britney Spears?
Quentin Tarantino is reportedly "hot" to remake Russ Meyer's 1965 classic piece of silliness Faster Pussycat! Kill! Kill!, in which "three wild women in three fast cars take time off from stripping in clubs to go on a murder rampage", as the IMDb summary explains.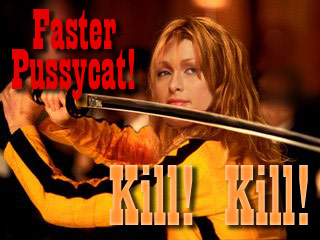 According to Variety, the director's casting choices are Kim Kardashian, Eva Mendes and, rather splendidly, Britney Spears.
Variety can hardly contain its incredulity at the Britney proposal, and laments that there is no place for wild woman Lindsay Lohan, who is apparently herself keen to remake 1965 movie Kitten With A Whip (tagline: "She's all out for kicks... and every inch of her spells excitement!").
While Lohan is indeed a credible candidate, we can't help feeling there's a place for Paris Hilton on the Faster Pussycat! roster, suitably attired in yellow leather catsuit and wielding a samurai sword, as our artist's impression shows. ®