Sony claims home cinema kit helps movie buffs keep the noise down
Keep listening
---
If you've recently been served with an ASBO for making too much noise, then Sony's lined-up a home cinema range that should help, because its latest speaker and player combo range automatically limits sudden loud sound effects.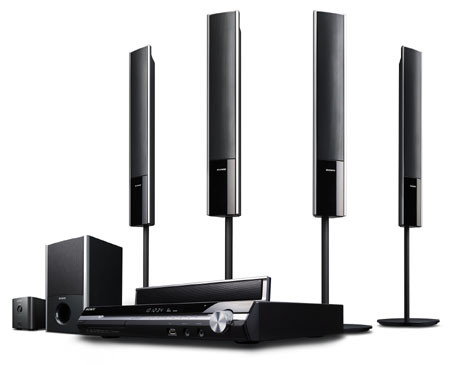 Sony's DAV-DZ: suppresses sudden sound bursts
All three models in the Bravia DAV-DZ home cinema range - which is divided up into the DAV-DZ260, DAV-DZ660 and flagship DAV-DZ860W - incorporate the so-called Night Mode. This, Sony claimed, allows actors' speech to remain clear, while ensuring that the volume of any sudden, say, gun bursts or tyre screeches are automatically limited to let the neighbours sleep soundly.
The range's Digital Cinema Auto-Calibration feature, which uses a supplied microphone, measures the position of each model's various speakers and their relative position to each listener, before automatically calibrating audio levels accordingly.
Because the number of floor-standing speakers, sub-woofers and satellite speakers differs in each model, the combined total output of each set therefore ranges from 850W with the DZ260 to 1kW for the DZ860W. The DZ860W has the added benefit a sports audio mode that, Sony claimed, provides the best quality sound during sports events. For example, the commentator's voice would come through the centre speaker, whilst the crowd's jeers would be heard through surrounding speakers.
Blu-ray Discs aren't support by either of the three models' players, however each plays a wide selection of other disc formats, including DVD±R/RW discs and standard CDs. USB and HDMI ports also feature on every player, in addition to front-facing analogue inputs.
Sony's DAV-DZ260 will be available next month, whilst the DAV-DZ660 and flagship DAV-DZ860W will ship in May and June respectively. No prices have been given yet.
Similar topics
Narrower topics