Dell quads up single-socket rockets
SMB sampler
Dell today is selling two new single-socket servers with speedy quad-core chips and copious memory capacity for small businesses.
Round Rock claims it's created the "industry's highest performing one-socket quad-core servers," by plunking the Intel Xeon 5000 series chip into smaller server boxes.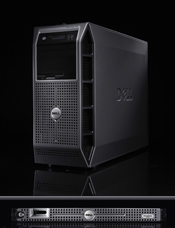 Reflective black: the new simple white
Both the new PowerEdge R300 rack server and T300 tower can be fitted with a quad-core Xeon x5460 processor running at 3.16 GHz. The chip is more typically found nesting in multi-socket servers.
Dell said the boxes will also woo large companies outfitting a remote office.
For memory-intensive applications, the systems offer 24GB of RAM — three times the capacity of typical one-socket systems, according to Dell. They also sport some high-availability features such as hot-plug hard drives and redundant power supplies.
Based on the systems called out in Dell's release, the company expects the 1U R300 rack server to compete with the HP DL320 G5p and the IBM System X 3250. Dell is pitting the T300 tower against the HP ML310 G5 server and the IBM System 3200.
Security features in the boxes include a Trusted Platform Module (TPM) for encryption, internal lock-down on USB, and locking bezels to help prevent hard drive burglary.
Pricing starts at $1,250 for the R300 and $1,000 for the T300. ®