This article is more than 1 year old
Nvidia drivers named as lead Vista crash cause in 2007
Lawsuit documents spill beans
Nvidia, not Microsoft, is apparently responsible for the drivers that caused the most Windows Vista crashes last year. That's if documents posted as part of a lawsuit probing PCs' ability to run the new OS are anything to go by.
The files in question are a batch of Microsoft emails, available to read in a single PDF here. Website Ars Technica had a look and discovered one - number 131 on page 47 - that claims Nvidia drivers were recorded as causing Vista crashes in 479,326 of the 1,663,327 crash logs filed with Microsoft.
That's 28.8 per cent of the total - over ten per cent more than the 17.9 per cent of Vista crashes that could be laid at the door of Microsoft's own software. AMD comes fourth, with its ATI drivers causing 9.3 per cent of the logged crashes. Intel follows in fifth place with 8.8 per cent.
Vista Crashes by Organisation, 2007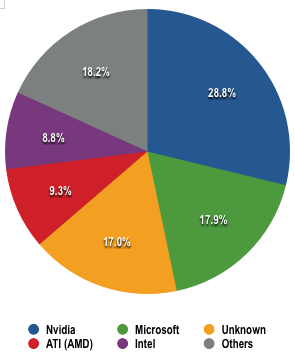 Source: Microsoft
No, we haven't ignored the third biggest contributor, accounting for 17 per cent of crashes, but it's a collective entity combining all the incidents for which Microsoft doesn't know whose drivers caused the new OS to hang.
Pretty much everyone who writes driver software is present on the list but after Intel, the percentages very rapidly tail off to below one percentage point.
The data was collected in 2007, and so far as anyone can tell from the document's PDF form, it aggregates data taken throughout the year. Later, more stable drivers might well be masked by the effect of early, bug-ridden drivers, and, as Ars points out, it's not known whether incidents from the same machine count as one data point or have all been included on the list.
These are presumably not all of the incidents of this kind that took place in 2007, only the ones where the users submitted the information to Microsoft. Nvidia user may be more keen to do so than owners of ATI-branded cards.
Whatever, the data does suggest that the many complaints aired in online forums by frustrated users about Nvidia's drivers - and, let's not forget, other vendors' products too - were not without justification.
Unlike many organisations, Nvidia - AMD too - regularly update their drivers, so it's unlikely the early glitches persist into more recent driver releases. But the data makes for a fascinating glimpse into the history of the OS' roll-out.