LogoWatch It's come to our attention that "pimp my data" outfit Phorm may not have been as ground-breakingly creative as we'd have expected when knocking together its logo.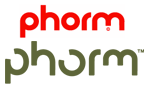 Compare if you will the logo of Sheffield-based Phorm Design (top) with that of the world's favourite adware company. Quite spooky, we're sure you'll agree.
Well, we had a chat with Simon Griffiths, owner of Phorm Design, who told El Reg: "I'm aware it does look very similar to our logo, yes. It's a tricky one. I've had solicitors look at it and they say we'd have to go to court. They're obviously a big player with a lot of clout. I'm a small design agency in Sheffield that employs three people."
For the record, Phorm Design's logo is three years old and Phorm were, until last May, 121media. Time perhaps for a David versus Goliath rematch in the copyright arena of death? ®