This article is more than 1 year old
Welcome to Las Vegas - Home of the technology superpower you've never heard of
Rob Roy seizes Enron's busted dream
Roy and I worked out a deal. He would give me full access to Switch's operations, if I agreed to keep some information - mostly on clients - out of this publication. We rarely make such bargains, but since Roy would rather talk to a door-to-door salesman than a hack, it seemed the best way to attack the story at hand. I can tell you that Switch's data centers are packed with Fortune 100 companies you would recognize. These companies make everything from servers and switches to search engines, bombs, cartoons, MP3 players and hotels. We'll let you fill in the blanks for now.
Even with McNealy's kind introduction in place, Roy seemed apprehensive about my arrival on-site. He came into the conference room and sat at the opposite end of the table from me and my audio recorder. (Note to self: Bring the boom microphone next time.)
Roy's distancing himself from me gesture was about the last thing I needed at that point.
People visiting Switch must go through a bit of a security ordeal. You buzz in at a main gate that's located in an alley and then drive around to the front of the building. By the time your car arrives, there's a guy with a gun waiting for you. I'm not talking about a sleepy rent-a-cop here. I'm talking Data Center Rambo. The muscle-bound dude who greeted me had something between a smile and a grimace on his face, which I assumed was the result of gas from the prowler he killed that morning and then ate for breakfast.
Most up-scale businesses have a nice enough receptionist, some couches and magazines waiting behind their front door. Not Switch. It has something known as a mantrap.
If you're living the good life in Las Vegas, then a mantrap is a busty waitress who will take half your money many years down the road. If you're hunting Co-Lo facilities, then a mantrap is a room encased in 12 gauge steel that can only be bested by biometric authentication.
On one side of this steel-clad room - where the nice receptionist should be - are more former military personnel and a bunch of screens. One of the gun-toting guys takes your government issued identification, which Switch keeps during your stay, while the other monitors the monitors.
Switch has one screen dedicated to tracking weather across the globe. It has about 15 more that can pull up pictures from what must be hundreds of security cameras. Then there's another one that seems to track power and networking grids, and then there's the really creepy one.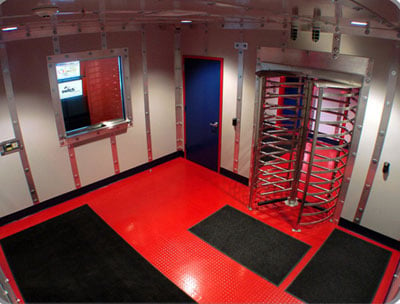 Switch's Man Trap
"That screen monitors global terrorist activity," I was told. "If someone even mentions the word 'bomb' on a plane, we find out about it."
Quizzical look from reporter.
"These guys have access to databases that you and I don't even know anything about."
Sure, sure. We'll get into a discussion about how realistic that is some other time far, far away from the guy with the gun and the gas grimace.
Some contacts have described Switch's security as "overblown" and on a level that would "make Ross Perot look almost negligent." Roy insists that such protection is necessary for the work at hand, so close to 70 per cent of the employees have military backgrounds, including a COO who used to wire fighter jets.
My mistake was thinking that the security part would be the most unnerving part of the morning.