Red Hat opens Satellite service code for Spacewalk
Take your protein pills and put your helmet on
Summit Red Hat is opening the code of its Network Satellite Server, the locally hosted service behind the Red Hat Network (RHN) management platform.
Available under the GPLv2 license, Project Spacewalk will act as a free upstream for future RHN Satellite and proxy products. Open source management code supported by Red Hat will appear on Spacewalk early to be more easily accessed and supported by its development community.
RHN facilitates automated installation and updates, system monitoring, configuration, and other features for managing a large scale Linux set-ups. While RHN is run on Red Hat's own servers, companies can pay a premium for Satellite in order to run it on-site.
According to Katrinka McCallum, veep of Red Hat's management solutions business, the company is recognizing a budding community of developers focused on systems and security management.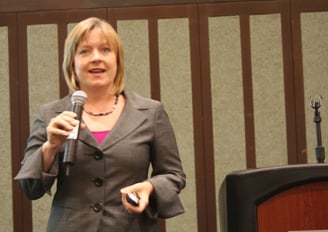 Katrinka McCallum at Summit
"Now we're laying in the hands of this emerging community the assets of Red Hat Satellite, so we can continue to drive further innovation to the new activity that's going on."
This isn't the end of the subscription Satellite service, however. That's still a valuable racket for Red Hat. Subscribers will continue to get technical support, and access to certified Red Hat software including RHEL releases distributed to the Satellite server.
Spacewalk, on the other hand, will be driven almost entirely by contributions.
Satellite vs. Spacewalk
| | | |
| --- | --- | --- |
| | Satellite | Spacewalk |
| Releases | Stable and supported | Early releases |
| Feature selection | Red Hat | Red Hat, dev community |
| Architectures | i386, x86_64, s390, s390x | i386, x86_64 |
| Managed systems | RHEL | Fedora, CentOS |
| Support | 24x7, unlimited incidents | Community support |
| Content stream | Direct via RHN | Manual import |
| Release interval | 6-9 months | 1-3 months |
| Testers | Red Hat | Community |
McCallum told El Reg that she's not concerned about the free service cannibalizing Satellite customers — although the company has considered the issue. She said the relationship between paid Red Hat Enterprise Linux subscriptions and the gratis Fedora OS has proven the paradigm works.
She said Red Hat doesn't have plans to change the current pricing model of Satellite at this time.
Spacewalk and its accompanying documentation is available here.