NASA scientists have announced that at least one of the giant lakes previously spied on Saturn's moon Titan contains liquid hydrocarbons - making it the "only body our solar system beyond Earth known to have liquid on its surface", as the agency puts it.
The lakes were identified by the Cassini spacecraft, and although scientists couldn't be sure they were liquid, "their dark appearance in radar indicates smoothness and their other properties point to the presence of liquids".
Investigators further suspected these features would be filled with methane, ethane and other light hydrocarbons, but Titan's hazy atmosphere - 95 per cent nitrogen and five per cent ethane, methane and other hydrocarbons - made confirmation difficult.
Back in December last year, though, Cassini used its visual and mapping instrument to cut through the atmospheric hydrocarbon smog and probe "chemically different materials based on the way they absorb and reflect infrared light" in the lake dubbed Ontario Lacus, lying in Titan's south polar region. The feature is roughly 7,800 square miles in area, "slightly larger than North America's Lake Ontario", NASA notes.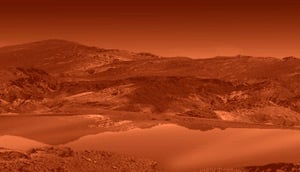 The resulting data showed that the lake contains liquid hydrocarbons, and certainly ethane. Larry Soderblom, a Cassini interdisciplinary scientist with the US Geological Survey, said: "Detection of liquid ethane confirms a long-held idea that lakes and seas filled with methane and ethane exist on Titan. The fact we could detect the ethane spectral signatures of the lake even when it was so dimly illuminated, and at a slanted viewing path through Titan's atmosphere, raises expectations for exciting future lake discoveries by our instrument."
NASA explains that the ethane is present in "a liquid solution with methane, other hydrocarbons and nitrogen". It adds: "At Titan's surface temperatures, approximately -300°F (-184°C), these substances can exist as both liquid and gas. Titan shows overwhelming evidence of evaporation, rain, and fluid-carved channels draining into what, in this case, is a liquid hydrocarbon lake."
Cassinin's obervations "also suggest the lake is evaporating", since it's "ringed by a dark beach, where the black lake merges with the bright shoreline". The spacecraft "also observed a shelf and beach being exposed as the lake evaporates".
Soderblom concluded: "During the next few years, the vast array of lakes and seas on Titan's north pole mapped with Cassini's radar instrument will emerge from polar darkness into sunlight, giving the infrared instrument rich opportunities to watch for seasonal changes of Titan's lakes." ®
Sponsored: How to simplify data protection on Amazon Web Services