BT's third Phorm trial starts tomorrow
Cookie monster
Updated BT will invite thousands of its broadband subscribers to voluntarily participate in a third trial of Phorm's advertising targeting system starting tomorrow, the two firms said this morning.
The trial was originally scheduled to begin in mid-March, but has been repeatedly delayed amid technical problems and legal controversy. It's planned that 10,000 residential lines will be monitored and profiled in real time.
Phorm sent this announcement (pdf) to the stock market:
Phorm, the advertising technology company, today announces that its ISP partner, BT, will tomorrow commence its trial of Phorm's platform, branded "BT Webwise".

BT customers are being invited to take part in the trial, which will take place over a number of weeks. Following successful completion of this trial and an appropriate period of analysis and planning, it is currently expected that Phorm's platform will be rolled out across BT's network.
A sample invitation page posted to BT's "Webwise" pages gives details of how customers will be asked for permission to wiretap their line. It says: "As a BT Total Broadband customer, you can try an exciting new service called BT Webwise."
The page will unavoidably appear on the screens of customers targeted for the test as an "interstitial".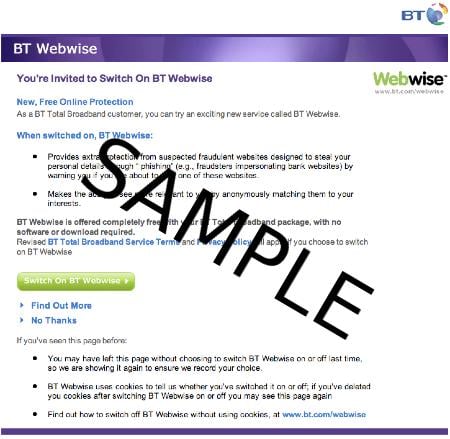 BT continues: "BT Webwise uses a cookie stored on trial customers' computers to remember their preference. If the cookie is deleted at any point, the invitation page will be displayed again."
BT had said that Phorm's much-criticised cookie-based opt-out method would be replaced with a new method to satisfy those customers who don't want their traffic to come into contact with Webwise-related equipment.
For the trial at least, cookies are still at the heart of the system. In its FAQ BT says that "to remain opted-out, you can set all your browsers to block cookies from the domain webwise.net". BT chief press officer Adam Liversage confirmed that opted-out traffic will pass through the system during the trial, but said it "will not be mirrored or profiled".
He also said BT is still working on a network-level opt-out, but that it will not be offered during the trial. The final full roll-out of Phorm equipment across BT's national network will not necessarily depend the completion of the work either, Liversage added.
This third trial will be the first time BT and Phorm have gauged the effect their behavioural targeting system has on ad click rates. The first trial did not seek to measure whether the technology improved response, and in the second trial no ads were served. The European Commission is currently considering action over the secret tests, which were conducted in 2006 and 2007 without customer consent. ®