Honda debuts groin-clutching walker exoskeleton
Bot-bot offers crouch/cringe mode for car workers
---
Mighty motors'n'tech globocorp Honda has wowed the world's media today as it unveils a combination of two-legged indoor robotic horse and lower-body exoskeleton walker device.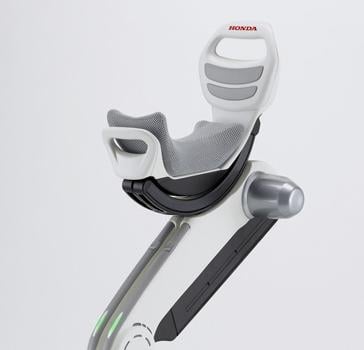 'Fundamental technology' - indeed.
The machine, described by Honda as a "walking assist device ... with the goal to provide more people with the joy of mobility", uses a pair of motorised robot legs attached to shoes worn by the user.
The legs support a mildly-scary looking U-shaped saddle, which cups the wearer's groin and buttocks firmly to deliver solid uplift. In one of those moments that bring a little bit of beauty to a Friday afternoon, the company announcement states that the technology was developed - as one really might have expected - "at Honda's Fundamental Technology Research Center".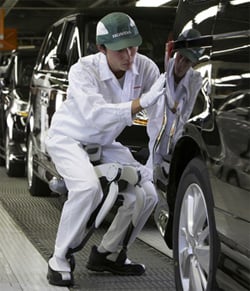 Mmm, vibro mode
Honda say that the machine reduces load on the hip joints, and helps not just with walking but also standing - and especially with maintaining a crouched position. The whole thing, including shoes and li-ion battery, weighs just 6.5kg. Apparently it can maintain "walking or in a semi-crouching posture" for two hours before recharging.
The motor titan says that the walker machine's control ware builds on research done in developing the well-known ASIMO humanoid robot.
The expected greying of Japan is expected to provide a big market for robotic assisted-mobility devices in future, but there are no production plans for the walker machine just yet. However, a batch of them will be given out to workers at the Saitama car factory to test out, starting this month. ®