The crew of space shuttle Endeavour is set for tomorrow's scheduled launch to the International Space Station on mission STS-126 to equip the outpost with extra kit for its intended expansion to accommodate six full-time residents.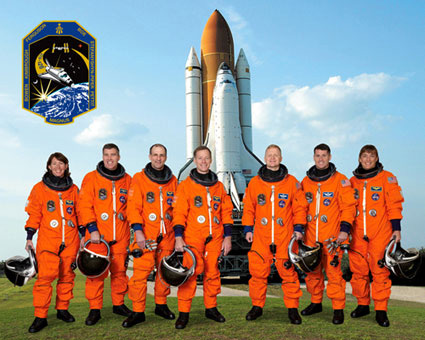 Aboard Endeavour for tomorrow's lift-off at 19:55 EST (00:55 GMT on Saturday) from Kennedy Space Center are mission commander Christopher J Ferguson (centre), pilot Eric A Boe (third from the right) and (from left to right), mission specialists Sandra H Magnus, Stephen G Bowen, Donald R Pettit, Robert S Kimbrough and Heidemarie M Stefanyshyn-Piper.
The principal objective of the 15-day jaunt is to deliver a reusable logistics module bearing "supplies and equipment, including additional crew quarters, additional exercise equipment, equipment for the regenerative life support system and spare hardware".
Endeavour and ISS crew will install the new quarters, plus a galley, waste water recycling system and oxygen generator. Four spacewalks are also on the agenda, aimed at servicing the joints which rotate the ISS's solar arrays.
Sandra Magnus will remain on the station, relieving Gregory E Chamitoff, who's been on board since mission STS-124. Magnus will return aboard Discovery on Mission STS-119, which on 12 February next year should be on its way to deliver further solar arrays to the ISS. ®