Silent mentors: better than Burke and Hare
The Medical Simulation Centre opened just two days before we arrived for our tour but the Silent Mentor programme has been running since 1995. It differs in some major ways from medical school practise in the UK and US. Firstly because medical students visit the silent mentor, or body donor, before they die. They go on several visits to the family of the person they will be practising their surgical techniques on. Photos are taken and the students encouraged to see the mentor as a person. After they die the mentors undergo a rapid freezing process developed with the help of a German company.
The body is rapidly cooled – the core temperature needs to get down to -30C within two hours or the flesh becomes spongy. They are then stored until needed. After defrosting the bodies will only last four days, unlike in Western universities where bodies are stored and preserved in formaldehyde.
The room for simulated surgery is almost identical to a real theatre and students use new instruments but the room is not pressurised as a real surgery would be. One major difference is that the room contains eight operating table rather than one. Also different from a typical theatre, at the head of each is a flat screen TV showing a picture of the deceased and three paragraphs in English and Chinese about their life.
So students are not going to forget their meetings with the body donors. Medical simulations are run from Thursday to Sunday because more doctors and surgeons are available to demonstrate operating techniques. Family members are also free to watch the sessions.
After having the scheme explained to us the press were hussled into a room - which we understood to be empty. In fact it was a viewing room looking into the theatre where eight bodies were having various simulated operations carried out on them. More shocking was the middle-aged woman standing next to me watching her husband being operated on about three feet from where we were standing. She watched the process through her fingers and was accompanied by her daughter. While we gawked at her husband, students and the Foundation PRs took pictures, it felt like we were intruding on what should have been a private moment.
The bodies, we were told, are very nearly as good as the real thing. They've proved particularly useful for practising Minimal Invasive Surgery – using endoscopy techniques, or keyhole surgery. This is a medical student's blog post about the scheme.
Once the students have finished the bodies are reassembled and stitched back up. Families often choose to watch this process too. The mentors are put in coffins and handed back to the families for cremation. Some of the ashes are then put into the hospital's Room of Great Giving. There is also an annual ceremony of thanks in November for the surviving family of body donors. Our visit coincided with the annual conference for medical volunteers from around the world - the Tzu Chi International Medical Association.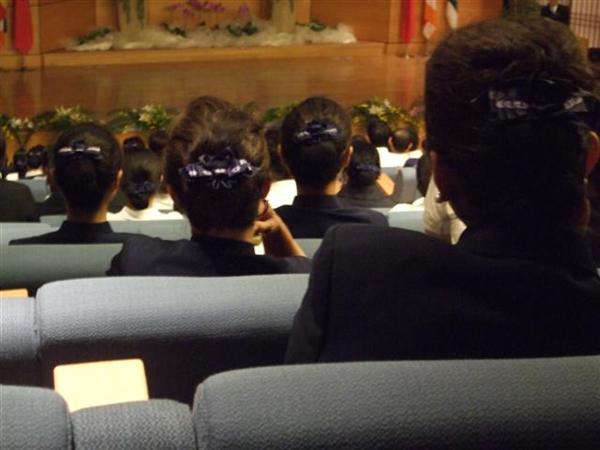 Identically dressed medical volunteers watch simulated surgery on cadavers via video link
Tzu Chi Monastery and the Dharma Master
The final part of our trip was to the Tzu Chi Monastery and a meeting with Dharma Master Cheng Yen. We arrived at 7am, in time to see her deliver her daily talk, which is broadcast on Da Ai TV. She spoke mostly about the day's events – Taiwan was in the middle of a typhoon which killed several people – and about what the Foundation was doing to help. The monastery consists of a small cluster of buildings and a temple, just outside Hualien. Monks grow much of their own food and also produce crackers and bean powder for sale. The place is home to 170 tonsured (shaven headed) monks who must spend at least two years as probationers. We were shown round the various buildings by a monk who grew up and was educated in the US – she graduated from Stanford before joining the order.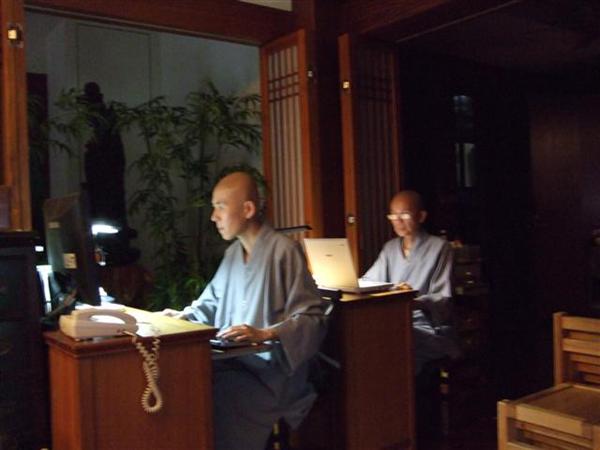 Two monks working on their laptops
The monks are surprisingly techno-literate - even the Dharma Master is no techno-slouch. She uses the internet and email to keep in touch with the group's international work – a heart condition means she is unable to leave Taiwan. She even uses PowerPoint to create notes for her speeches – but does not inflict the slides on her audience. Then we were taken into meet the Dharma Master – slightly unnerving after a week spent in the company of people who prefaced almost every answer to a question with "Dharma Master says…".
She answered our questions gracefully, despite not normally talking to the press. She kept half an eye on a flat screen TV which had the news on in one corner of the room. Her every word was written down by one of the monks, several of whom crowded into the room to hear her speak.
She has a quiet, slightly sing-song voice which is quite hypnotic - especially after four days talking to her followers. I'm not going to attempt to summarise her views here – the Tzu Chi website is a good place to start.
Or how about a couple of Cheng Yen's aphorisms:
Believe in yourself but do not be attached to your own point of view.
or The hardest thing for people to see is themselves.
Whatever you think of her there is something amazing about the scale of the organisation she has created in forty years. And so is the enthusiasm and dedication of the Tzu Chi volunteers and the way they attempt to help and humanise victims of natural disasters. From a Western perspective more used to charity professionals or aid tightly tied to political motives the idea of an international force of volunteers is more than impressive.®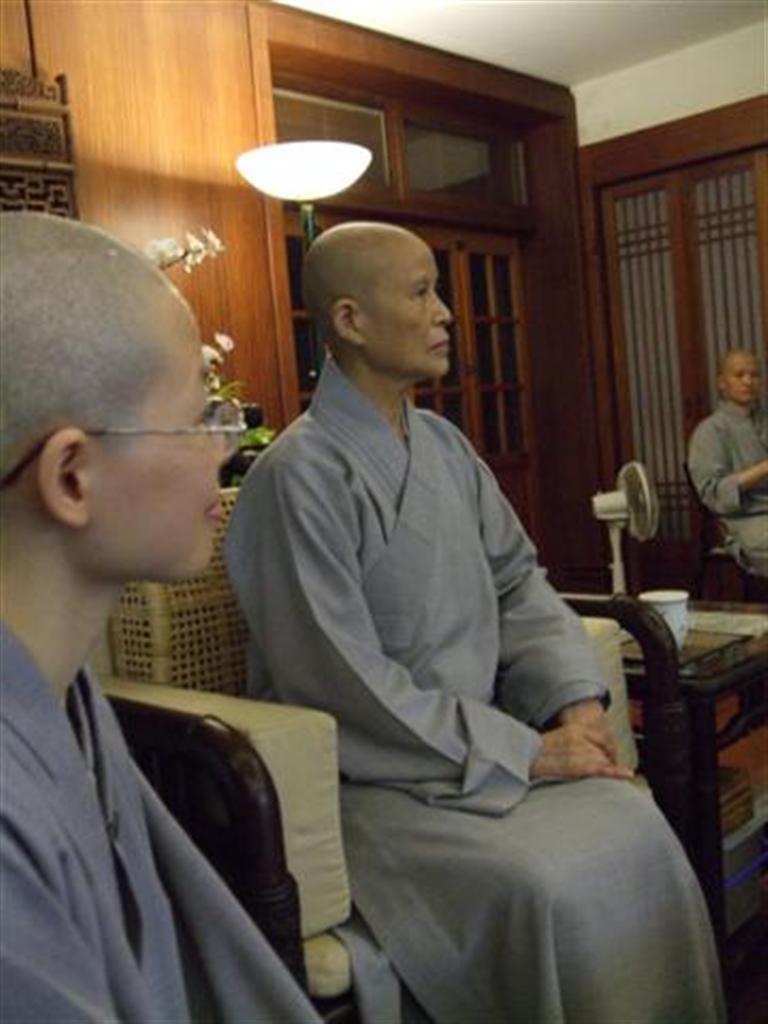 Dharma Master Cheng Yen.
Next page: More pictures