An information delivery pipedream
Is delivery at the point of need a step too far?
---
According to the findings from our recent Platform and Operations monster survey, most organisations told us they 'get' the notion of an application platform. Around a quarter of respondents told us they have formally adopted one, and over a third said that they had adopted one in the sense of having a natural tendency to re-use platform components.
Now, we left the definition of 'application platform' somewhat open ('the bits between the server and the actual application') and let you guys do the real defining by asking about what attributes should be 'in' or 'out' when it comes to an application platform. The figure shows what you came up with: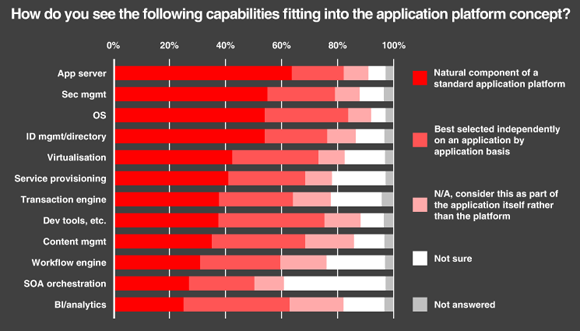 As many are starting to think about applications from this 'platform' point of view, perhaps we really should be thinking about bringing as much 'richness' as possible into the equation with respect to information delivery. So, what's wrong with the above? While most of the figure makes sense, it looks very strange to us that neither content management nor business intelligence are very high on the list.
We think this is odd because people continually tell us how much of a challenge finding and using information / data really is. Wouldn't it make more sense to have such capabilities built into our applications, rather than sitting on the sidelines?
So are such capabilities down at the bottom of the list of priorities because they simply shouldn't be an integral part of an application platform, or because it's too hard to make them integral? The tools on offer do seem to work well on their own, but are generally the preserve of specific people or roles, which brings about a different set of limitations. Part of the challenge is technical, but a goodly number also see it as a people and process problem too.
The bottom line is that in general, we struggle to get information to people as they need it. The notion of a true application platform is relatively new, so the rules aren't baked in stone yet. When it comes to considering how we get information (or data) to the people who need it there is possibly space for a rethink with regards to how. Is it all too hard or just unnecessary? We' want your views.