EDS president and chief exec Ronald Rittenmeyer will retire from HP at the end of the year, as HP steps up efforts to fully digest the massive IT services company it acquired this fall.
As HP announced with a press release this afternoon, Rittenmeyer will be replaced by EDS senior VP Joe Eazor, and EDS will be transformed into a business unit within HP's Technology Services Group (TSG).
Eazor will report to HP's Ann Livermore, the executive VP who heads TSG.
The new TSG accounted for roughly $14.6bn - or 43 per cent - of HP's total revenues in its fiscal fourth quarter and more than half of the company's operating profit. But that hasn't stopped CEO Mark "The Butcher" Hurd from putting the financial squeeze on both the HP and the EDS sides of this fledgling tech services amalgamation.
Last week, in confidential memos leaked to The Reg, Rittenmeyer and Livermore cut back on employee reward programs, eliminated previously scheduled EDS salary increases, limited hiring to revenue-generating positions, reduced agency and contractor spending, and shaved company travel.
Livermore's email included this header: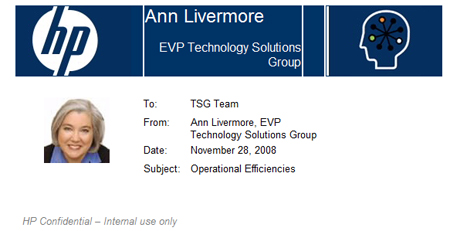 HP Letterhead
Her grin - and her words - didn't go over well with at least one longtime TSG employee. In an email to Mark Hurd - also leaked to The Reg - this rogue employee accused the CEO of "demoralising" his workforce with shortsighted greed.
"I'm sorry but I really feel the need to speak out after yet another demoralising message from HP [the email from Livermore], made even worse by the smiling face attached to it!" the message begins. "This comes hard on the heels of a message from Steve Gill about cancelling Christmas events...the name Scrooge springs to mind.
"In the scheme of things how much money will that save, compared to the effect of demoralising the work force even further? It's very short sighted in my opinion."
Founders Bill Hewlett and Dave Packard, the employee goes on to say, would not approve of what he sees as HP's recent history of heartless belt tightening:
Our commitment and support as employees (of this once proud people company) would be a lot greater if HP stopped reducing our benefits year on year and gave us a pay rise now and then to reflect the good work done by its employees, rather than the 'thanks for your efforts and continued support' we get, when helping make this company millions of dollars in profits, which we see none of these days!

Working as one motivated team pushing the company forward, when all we get is continual demoralising news week on week is very difficult, especially when it is not reflected in the company's year on year performance. Receiving continuous messages telling us how well the company are doing and the profits being made, I, and others, find it extremely insulting to then be told the sort of information contained in Ann and Steve's emails.

HP is continually chipping away at all the employee benefits built up over the years by Bill and Dave and for what?

More market share!

Another cent on the share price!

Quite frankly when will we have enough market share? Is there an optimum number that will suffice or will HP not be satisfied until it has 100%? How many more companies does HP have to take over making thousands of hard working employees redundant in the pursuit of market share? Not to mention outsourcing to third world countries on the pretence it's all in a good cause and not merely for monetary gain!

Bill & Dave would be mortified to know that HP has finally become 'A Selfish Capitalist'
It so happens this is an echo of words Mark Hurd delivered to the US Congress when he testified about HP's infamous 2006 leak investigation, when it targeted the phone records of dozens in an effort stop leaks to the press. In apologizing to HP employees and others who were targeted, he said: "If Bill Hewlett and Dave Packard were alive today, they'd be appalled. They'd be embarrassed."
Two years on, it would appear that HP has relaxed efforts to prevent press leaks. But if one voice is worth listening to, Bill and Dave continue to endure a less-than-pleasant afterlife. ®
Similar topics