Global sales of notebooks in the third quarter exceeded desktops for the first time in history, according to market watcher iSuppli.
"History," in this case, is of course a rather short period of time, what with the dawn of the personal computer era generally considered to have begun with the release of the MITS Altair 8800 in 1975 - though many a grizzled geek can provide a convincing argument about why the Altair doesn't deserve that honor.
Identifying the first notebook is a murkier proposition, but the Epson HX-20 came out in 1981 and the more-capable TRS Model 100 followed in 1983. Full-fledged "notebooks" they were not, but many a desk jockey relied upon them while on the road.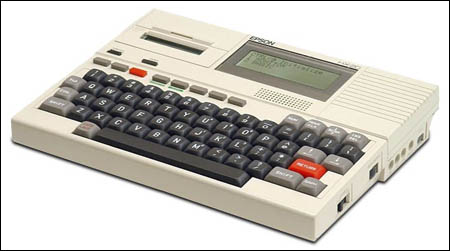 From the humble Epson HX-20, a mighty industry sprang forth
And now, after 25-plus years of being the underdog to what were, at first, far more capable desktops, the notebook has taken over the world. IDC had called the notebook's US victory back in October, but the new information from iSuppli makes it a worldwide win.
According to a report in the IEEE Times: "Notebook PC shipments rose almost 40 per cent in [the third quarter of 2008] compared to the same period in 2007 to hit 38.6 million units. Desktop PC shipments declined by 1.3 per cent for the same period to 38.5 million units."
Impressive. Equally impressive, however, is the fact that even as the economy was rapidly going down the dumper worldwide PC unit shipments rose to 79 million units, 15.4 per cent over the third quarter of 2007. All year, in fact, notebooks have kept the PC market rolling along, tracked by news stories such as Economy Hits US PC Sales, but Notebook growth remains strong in April and Notebook sales help boost Dell earnings in May.
Some of this growth, however, can be credited to the rise of the lower-cost netbook, seeing as how the little guys are counted along with full-fledged notebooks to total up the non-desktop figure. Again according to the IEEE Times when referring to the world's third-largest PC maker, Acer: "The company shipped nearly three million more notebooks in the third quarter than in previous quarter, the majority of them netbook products."
The news wasn't peachy for everyone, however. Apple, for example, saw its global market share dip by half a percentage point to 3.2 per cent. But there's even a silver lining to this cloud over Cupertino. As pointed out by the Silicon Alley Insider: "Apple... is increasingly a notebook company. If the trend toward notebooks continues - which we expect it will - Apple stands to gain market share."
But we can't resist adding our own two cents to that optimistic spin: Apple would best benefit from the Brave New Notebook World if and when it produces a netbook - and no, despite what some say, the iPhone 3G is not a netbook-beater. ®
Similar topics