WTO backs US in Chinese piracy dispute
66.6 per cent guilty
The World Trade Organization has said that China should change its copyright and anti-counterfeit laws to provide better legal protection to foreign products, based on trade complaints filed by the US government.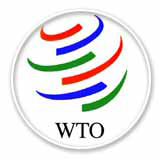 A WTO panel of judges ruled today that China's intellectual property laws don't meet some of the obligations required by the Geneva-based trade arbiter. The panel's report agreed with two of the three arguments of the US complaint first filed in 2007, but disagreed that China needs to alter its laws that exempt small-scale counterfeiters from prosecution.
The panel found that China breached trade rules by ignoring piracy and the counterfeiting of products like CDs, DVDs, and software that don't meet the country's "content review" standards. The US argued that the requirements let unauthorized works be produced in China and exported without the risk of copyright violation.
China was also knocked for its policy of auctioning off counterfeit goods seized at the border by simply removing the fake brand or infringing trademark.
The US failed to convince the WTO judges, however, that Chinese copyright pirates and counterfeiters don't fear criminal prosecution because the government's threshold for bringing a case is so high it effectively allows sales on a "commercial scale." The US Trade Representatives' office said the conclusion was "disappointing" in a statement (PDF).
"The findings in the panel report will make an important contribution to China's efforts to improve IPR enforcement regime, just as the imminent prospect of a WTO dispute contributed to China's cutting its threshold for criminal prosecution of copyright infringement in half just before the United States filed its complaint," the US office stated.
Both the US and China can appeal the decision. Under the trade org's rules, China must change its laws to conform to the ruling - or the US can petition for WTO retaliation against Chinese wares. ®