GM talks up EV battery longevity tech
How it'll make Li-ion go further (and not explode)
---
'Leccy Tech With some of our media colleagues giving the distinct impression that the current cold snap is on a par with the one that stopped the Wehrmacht at the gates of Moscow in 1941, Green Fuels Forecast have had a timely chat with some senior General Motors staffers about battery lifespans and operating temperature issues.
Temperature is a big deal with it comes to 'leccy vehicles powered by lithium-ion batteries for the simple reason that below about -10°C their performance drops off rapidly – as indeed it does above 60°C too, but far more of us are likely to driving around in the former temperature than the latter.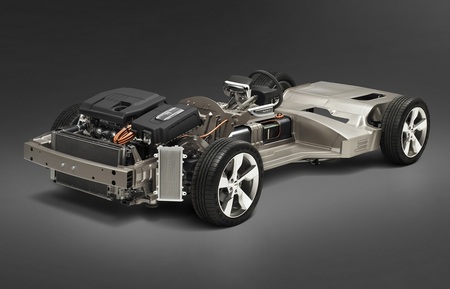 Inside the Ampera
In due course, new generations of Li-ion battery electrolytes may overcome the problem, as indeed may new types of battery - one of the claims Altairnano makes for its NanoSafe battery is an operating temperature envelope of between -30°C and 249°C - but in the short term, battery management is the only way to go.
Answering questions specifically about the Chevrolet Volt/Opel Ampera in an interview with Green Fuels Forecast, Denise Grey, GM's Director of Hybrid Energy Storage Systems, and Bob Kruse, Executive Director of Hybrid Vehicle Engineering, recently shed some light on how GM's Great White Hope will cope various battery related demands.
Most interesting was the revelation that as it currently stands the Volt won't let you pull away under charged power if the temperature gets below -10°C. Instead, the 1.4l range-extender petrol engine will fire up and drive the generator until the system gets warm enough for the battery pack to reach its optimum operating temperature.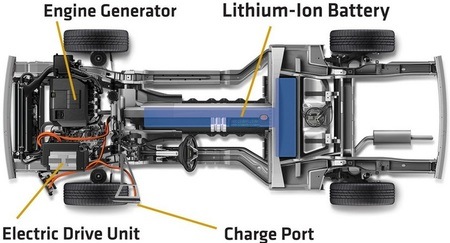 The chassis
In an effort to prolong the life of the Volt's battery pack, Kruse explained, it won't charge to above 80 per cent of capacity, nor will it deplete to below 30 per cent. Allied to its liquid-cooling system, this should help prevent the heat build up that causes electrode cracking due to thermal stress and so enable GM to meet its ten-year/150,000-mile durability target.
Kruse also went on to say that the experience GM gained in battery management during the much heralded development and launch – and rather less heralded withdrawal – of the EV1 electric car has given them a useful competitive advantage.
Presumably, GM staffers who sweated and toiled on the EV1 have been able to hold their heads up high since GM CEO Rick Wagoner's 2006 admission that the worst decision he made was "axing the EV1 electric-car programme".
GM's interest in battery management – rather than battery cell manufacture – has been underlined by the planned 31,000sq ft battery assembly and testing facility that it's due to build at its Warren, Michigan technical centre later this year as part of Wagoner's intention to make battery technology a "core competency" at GM.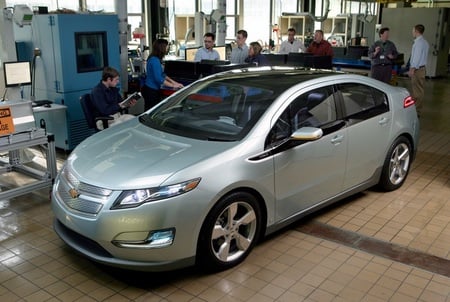 Testing, testing, 1, 2, 3...
The Warren battery lab will offer free testing facilities to any battery manufacturer, though GM isn't being wholly altruistic in this – the quid pro quo is that GM gets access to all the performance and test results.
In related news, Grey also recently said that GM has been in contact with EEStor, the highly secretive Texas company which claims – but offers absolutely no proof – that it's close to developing an ultracapacitor-like energy storage unit that allegedly gives several times the energy density of lithium-ion batteries at a fraction of the cost and with a functionally infinite lifespan.
We'll believe that when we see it, drive something powered by it, or get an electric shock from it. ®