Review The market for TVs with integrated DVD players has never quite reached its potential. Dogged by some indifferent products, a very large installed base of standalone DVD players already out there and manufacturers' desire to sell us two products instead of one, TV/DVD combos have struggled to make a real impact.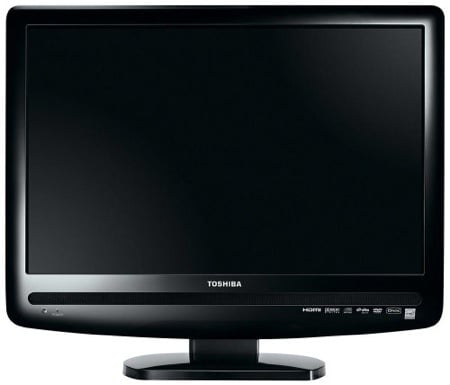 Toshiba's Regza DV556DB: black and...
One product range isn't going to change that overnight, but this unit from Toshiba displays a feature set, performance level and enough connectivity options to make this a really useful set for the bedroom or study.
Our unit was the 19in DV556DB in white, but the range extends to models with a black gloss finish as well as 22in versions in both colours. Neither are ugly, but we actually preferred the look of the black finish.
The DV556DB has a solid-feeling chassis and a really useful adjustable stand that delivers a good, rigid foundation for the screen. It also lets you adjust the angle of the screen: 3° back and 10° forward. That may not sound much, but it can be just enough to get the angle right when you're slouching on your pillows. The screen can also be wall mounted.
The unit isn't heavily burdened with accessories. You get a remote, a mains cable, a male-to-female aerial lead and that's it. Seeing as the unit has a digital and analogue TV tuner as well as the built-in DVD player, it's unlikely you'll be plugging the DV556DB into a set-top box - the most obvious use for the supplied cable. Come on, Tosh, it would have been more useful if you provides a male-to-male cable for plugging into feed from a roof aerial.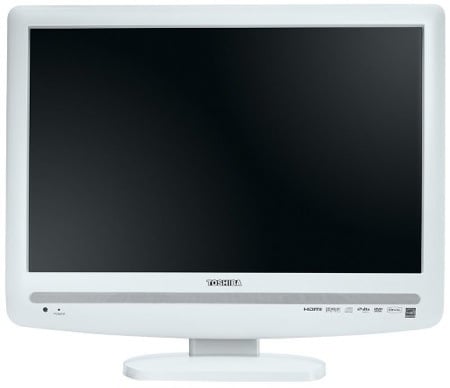 ...white television
Still, the DV556DB's connectivity options are reasonably extensive. There's a single Scart socket if you want to hook up an old VCR or somesuch; component-, composite- and s-video ports for other kit; one HDMI port; headphone and digital audio ports; a Common Interface slot to take a card for access to pay TV services; and a PC input.