This article is more than 1 year old
Solar-powered netbook spied in Spain
Free power on the Costa Del Sol
Spanish firm Iunika has unveiled a solar-powered netbook.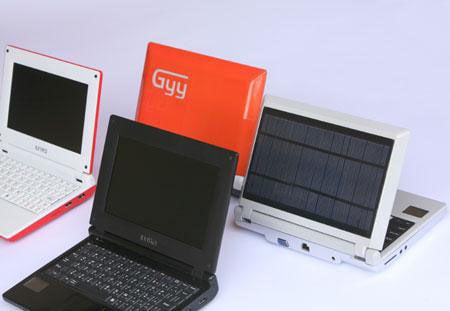 Iunika's GYY: uses solar power to top up its battery
Branded the GYY, this 8in mini laptop has solar panels built into the outside of its lid. These will help supplement the battery and, apparently, help extend it beyond its basic four-hour untethered runtime.
The netbook's body is constructed from bioplastics, which Iunika claimed makes the GYY's casing completely biodegradable.
Weighing in at 700g, the GYY operates on a version of Linux and features a 400MHz processor. The screen resolution is a mere 800 x 480. You'll also find 128MB of memory under its shell and a 64GB solid-state drive.
Wi-Fi and an Ethernet will provide web access. It has three USB ports.
Iunika's yet to provide a launch date for the GYY, but it has confirmed that the netbook will cost roughly €130 (£116/$176). ®