Dell punts germ-free netbook for school kids
Latitude 2100 with dodgeball finish
---
Dell is now flogging a series of colorful netbooks aimed at the clumsy, snot-nosed germ-factories affectionately known as school children.
The new Dell Latitude 2100 netbook line for the educational sector can be loaded with custom kid-intended kit like an antimicrobial keyboard, rubberized kickball-like exterior, and a special "network activity light" on the back of the lid designed to tattle to teacher when the kids are trading Pokemons online rather than paying attention to lessons.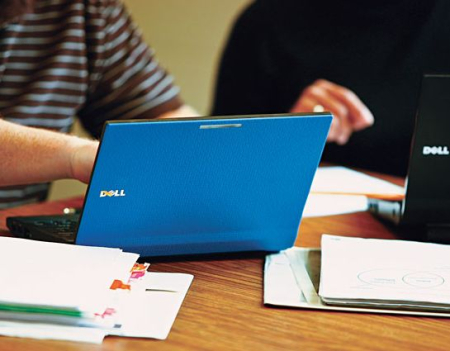 The guts of the machine are common netbook fare. The Latitude 2100 is equipped with an Intel Atom N270 1.6GHz processor partnered and the Intel 945GSE chipset. It starts at 512MB of RAM (up to 2GB) and 16GB solid state hard drive (max is a 250GB standard HDD), and it can sport either Windows or Ubuntu Linux.
Latitude 2100 netbooks have a 10.1-inch LED display with 1024x576 pixel resolution. There's also an optional touch screen upgrade for the screen. The chassis is covered in a thick, rubberized cover that hearkens to the bouncy projectiles every kid worth their salt has been assaulted with in a spirited game of dodgeball. The bottom is vent-free to avoid a spilled juicebox compromising the tot's education.
A basic system weighs about 2.9 pounds with a 3-cell battery and sized 10.43 inches by 0.89 inches.
The Latitude 2100 begins at $369 loaded with the Ubuntu Linux 8.10 operating system or with Windows XP Home Edition for $30 more. There's also an option for Windows Vista Home Basic (which for netbooks may be considered a form of child abuse. Please consult your local goverment before purchasing). UK pricing begins at £259.
To appeal specifically to the education market, Dell's includes a handful of extras tho make the system cool for school, but collectively makes it far more costly. For example, the germ-slaying keyboard is an additional $20 (and only available in the US for some reason. So much for Germ Free Adolescents). Adding a camera is $15, and the 10.1inch Touchscreen LED display is $30. Getting any color beyond "Chalkboard Black" runs up another $30. Not huge sums by themselves, but the total price exceeds $500 apiece quite easily. The computer also doesn't appear to come with any educational software to speak of.
Dell is also presently rolling out a "Mobile Computing Station" for the Latitude 2100 – which is a sort of cart/docking station that holds 24 of the netbooks. Students can slide their Latitude 2100's into the station - sort of like a blade server - to recharge the machines and even remotely update the netbooks. ®