Comment "The demonstrations will show Microsoft's embrace of devices beyond personal computers and of nonproprietary technology and may include a new interface that could eventually act as a digital dashboard for computers" - The Wall Street Journal, 'Microsoft's New Webware', 22 June 2000
Google has two prongs to its long-term strategy, but Wave, the "digital dashboard" it unveiled last week, casts light on a third.
One strategy is to drive down the value of copyright material on the internet to zero. Google has a ruthless and calculating view of the real value of stuff. It reasons that if all we do on the net is talk to each other, then it's merely fulfilling the role of a switchboard operator at a Soviet-era state monopoly telco - connecting us, while listening in. That's a pretty unglamorous business, it doesn't save the world... and hey, where's the money?
The YouTube experience has taught Google that the value of "user generated content", of the "new era of creativity" is as close to zero as a rounding error - while quite irrationally we continue to throw money at DVDs, CD box sets of stuff we already have, Susan Boyle, and even ringtones. That's all copyright stuff. They are clever people, and this hasn't escaped their notice.
The other strategy is to drive down the value of the "access networks" to zero. Unable to offer innovative value-add services of their own, the ISPs and mobile networks become interchangeble suppliers, merely undifferentiated suppliers of bits. Hence the "Net Neutrality" scare. Google didn't invent "net neutrality", but it lost little time in taking advantage of it, to its own ends. No company in the 25-year history of the net had ever dared propose a technical rulebook for what the net's operators could and couldn't do - until Google started to write legislation.
In both cases the entertainment and network "industries" have been the timid architects of their own demise. The networks well may be becoming commoditised bit pipes without Google's assistance, and the content businesses - by refusing to take elementary steps such as synchronising releases across markets, and monetising P2P file sharing - may too see the value of their assets disappear. But it doesn't harm Google to speed things along a bit.
Take the two together and you'll start to see why Google is building those vast power-guzzling data centers. With copyright holders and last-mile service providers unable to realise value, those data centres aggregate all that's left. Google becomes the internet company by default.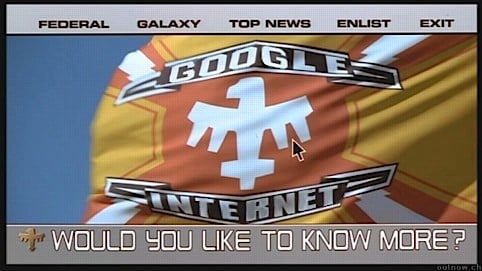 And that's exactly what Wave does, too. For Wave, Google will be relying heavily on third parties, just as Google News relies on newspapers and news sites it doesn't own. Without the RSS feeds, Wave would be useless. And any Web 2.0 company that's been stupid enough to buy into Tim O'Reilly's Kumbayas about "a platform for sharing" (that's almost all of them).
We already know how hard it has been for Facebook, despite its success, to make money from its network. Compare it to the phone book that the phone company would give away. It was probably the most thumbed book in your house - the one with the most "attention time". But that showed attention didn't translate into cash.
Despite supplanting email as the communication backbone of choice for a sizeable chunk of the net-using population - no mean feat - Facebook is as viable as a standalone telephone directory. Now it's just got harder, and has Google over its shoulder. In a market where scale is everything, and there's no prize for coming second, giving away your network's value as feeds was simply an invitation for a Google to step in - and realise the network's value.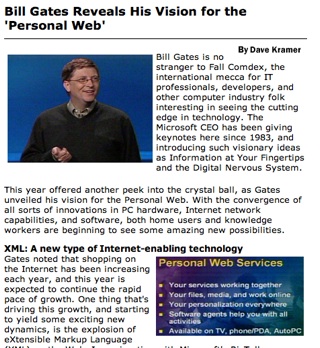 Look familiar? Microsoft's Digital Dashboard from 1999
Not every company will feel the life blood sucked out of it - Flickr, for example, has a subscription option that brings it real cash - but life has just got a lot harder for the no-hopers, such as Twitter. Expect Mark "I'm CEO bitch" Zuckerberg to put some steel into the ring fence around his business - and expect the other 2.0 companies to get a little promiscuous with their feeds.
This will leave Google with the happy situation of aggregating value while others, unpaid, produce the content, deliver the bits, and write the code.
All that's if Wave succeeds, of course. It could lapse into the Persistant Vegetative Beta state where we find almost all in-house Google projects. Which, funnily enough, is where Microsoft's Digital Dashboard ended up.
That began life as "The Personal Web", too. ®
Similar topics