We at Vulture Central were a mite surprised to learn recently of the TechCrunch "CrunchPad", which has got the technosphere into a bit of a tizz with its promise of couch computing delivered via an 18mm aluminium chassis, Linux and "Webkit based browser".
Actually, surprised isn't the half of it, because Vulture Central's Taiwanese labs have been working on something uncannily similar for the last year - a tablet designed specifically for Reg readers. Ladies and Gentlemen, we give you the RegPad™...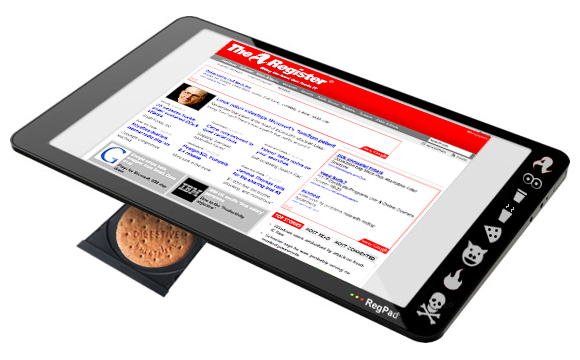 What we have here is a 12mm NASA-grade titanium shell packing an octocore Vulturium™ processor, Shark-o-raptorific V graphics card, 7.2W sealed cold fusion power supply, interplanetary internet node module with wireless connection rates of up to 8 petabytes per millisecond, headphone socket and slimline biscuit dispenser.
The RegPad™ runs custom Umbongo Linux "Vituperous Vulture" which boots straight into a stripped-down Firestorm browser. Regular readers will note from the pic that the screen resolution allows you to retain the inexplicable vertical grey bars at the sides of El Reg which provoke a nagging feeling of slight unease after a few hours.
Of course, what you really want to know is what exactly are those sexy touch-sensitive controls running down the side of the screen. Well, after subjecting one million reader comments to an adaptive learning algorithm designed to identify your key survival requirements, we were able to pinpoint the following essentials, listed as seen from top to bottom:
Go to El Reg
Find quality pornography websites
Get me a beer
Get me a coffee
Order a pizza
Make a bacon sarnie
Flame someone
Abort porn website surfing and return to SFW mode
And if all that isn't enough to satisfy even the most demanding surfer, we can also offer the RegPad™ in a wafer-thin carbon nanotube casing, allowing the RegPad Flex™ to be rolled up like a newspaper or used on uneven surfaces such as corrugated iron roofs: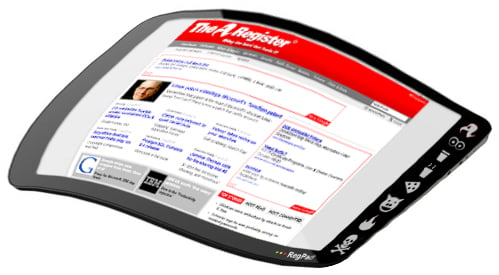 (Please note that the RegPad Flex™ is not supplied with a biscuit-dispenser, for obvious technical reasons.)