Kodak Easyshare M420
Can a cheap camera ever deliver killer shots?
Review Kodak's Easyshare M420 is aimed at the person looking for a reasonably cheap and convenient, compact camera that will basically take care of business, allowing you to simply point and shoot. As Kodak's founder George Eastman once said: "You press the button, we do the rest." So, the Easyshare M420 is cheap, but is it cheerful?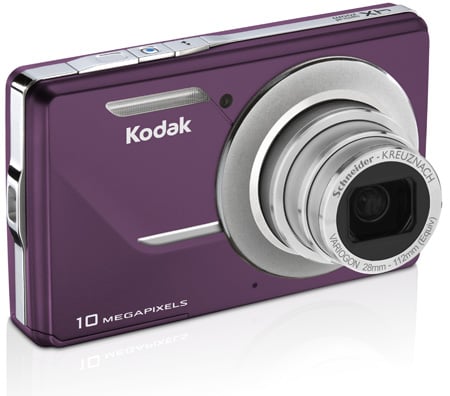 Kodak's Easyshare M420
First impressions were mixed when we removed the Easyshare M420 from its box. It's certainly compact, measuring 97.2 x 59.7 x 210mm and weighing 155 grams with battery and card. It fits snugly in a pocket and is great for carrying around. But this being Kodak, there are one or two idiosyncrasies. The first is the inclusion of a paper user guide that basically gets you started with the Easyshare M420 – there's not even a full PDF manual on a CD-Rom and you have to go online to download one.
The second issue is the curious battery charging system that involves plugging a USB cable into a mini USB port on the bottom of the camera and then connecting that to a charging unit that plugs into a power socket – there is no separate charging cradle. Kodak markets spare batteries for this camera, but the recharging system means you can't charge one battery whilst using a second one.
The Easyshare M420 comes with a three-inch LCD screen composed of 230,000 dots, and uses SD/SDHC cards and a lithium-ion battery. There's also 64MB of internal memory, with 48MB available for storing mages. When it comes to features, the Easyshare M420 has a 1/2.33-inch CCD with 10Mp (effective) and a 4x optical zoom in the shape of a Schneider-Kreuznach Variogon f/2.6–5.8 lens – try saying that after a few beers – equivalent to a 28–112 mm zoom on a 35 mm camera.
Images resolution ranges from 3648 x 2736 to 1280 x 960 with an ISO range of 64-1600, which can extend to 3200 and 6400 provided image sizes are 3.1MP or less. The shutter speed ranges from 1/1000sec – 8 sec, long time exposure, which sets the shutter speed from 0.5 to 8 seconds with several increments in between.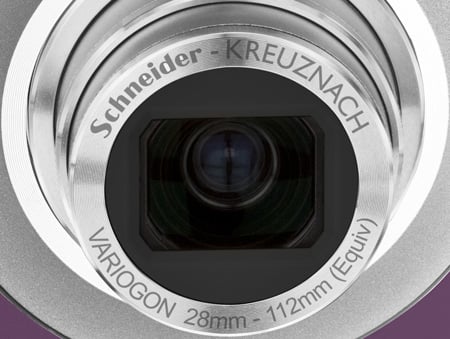 Considering its size, you get a decent wide-angle lens with a 4x zoom
Other features include a face detection system that detects up to ten faces, image stabilisation system, burst mode, VGA and QVGA video at 30fps recorded as QuickTime Motion JPEG, plus various scene modes and in-camera editing, that includes cropping and trimming.