Sony has unwrapped the first of its chips able to provide Bluetooth-style short range communications at speeds of up to 560Mb/s.
Two of the TransferJet chips are on offer - one designed to be small enought to fit inside an SD memory card. The other is designed to sit on a PCI or MiniPCI add-in card.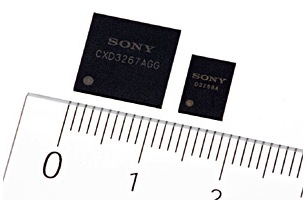 Sony's TransferJet chips: one small enough for SD cards
TransferJet - first announced in 2008 - is a wireless technology that operates in the 4.48GHz band to link just two devices for data exchange. Files are swapped using a simple, universal UI and activated, Sony said, by bringing one gadget to within 3cm of the other.
Using 4.48GHz means TransferJet will operate away from the 2.4GHz band, already crowded with Wi-Fi, Bluetooth and other signals, and susceptible to noise from microwave ovens and the like.
The system may be proprietary, but Sony says some 30 consumer electronics companies are backing the technology, including Samsung, JVC, Hitachi, Canon, Nikon, Pioneer, Toshiba, Canon and Sony Ericsson.
When TransferJet-equipped products will appear is not yet known. Sony said the two chips would be made available this month but only, it seems, in sample quantities. It didn't make clear when the parts would go into mass-production, but that may not happen until a sufficient number of TransferJet "promoters" decide to back it big time. ®
Similar topics