Acer beTouch E101 touchscreen smartphone
Cheap and..?
Review Acer has been successful in the laptop market by building low-cost, efficient computers that deliver the goods for less dosh than many of its big-brand brethren. When it first began manufacturing smart phones earlier this year, we had high hopes that they'd be able to pull of the same trick. Yet, Acer's first four Windows Mobile smartphones seemed out-of-date almost as soon as they hit the shelves, and there was the feeling that they were old Glofish models with a new badge.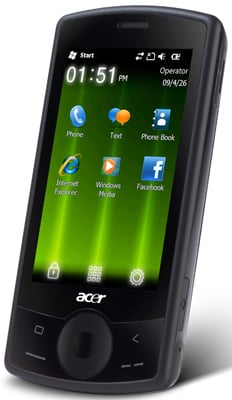 Acer's beTouch E101: Price and performance payoff?
The latest beTouch batch, however, are new, with improved processors and the latest Windows Mobile 6.5. The E101 is the lowliest of the bunch, way behind the range-topping neoTouch S200, and claims distinction as the market's cheapest WinMo smartphone. But with no Wi-Fi, no 3G and an exceptionally poor screen, could Acer have made a compromise too far?
The Acer beTouch E101 is a fair old handful at 113 x 56 x 13mm, but feels lighter than it looks at 118g. Part of the reason for this is its rather cheap and plasticky casing, which feels particularly flimsy on the thin back panel.
Beneath the large 3.2in screen is a large circular navpad with an outer scroll wheel and an inner action button. We were pleasantly surprised to find that it is a genuine scroll wheel which allows you to twirl through menus and web pages, but also has pressure points underneath, so it doubles as a five-way navpad. On each side of it are hard buttons for call start and stop, as well as back and home.
Around the sides are a volume rocker and a mute switch – handy if you're heading into a meeting – mini USB power/sync slot, a slot for the metal stylus, a camera shutter button and a micro SD memory card slot covered by a plastic grommet. There's a power button on the top and on the back there's a loudspeaker and the 2Mp camera lens.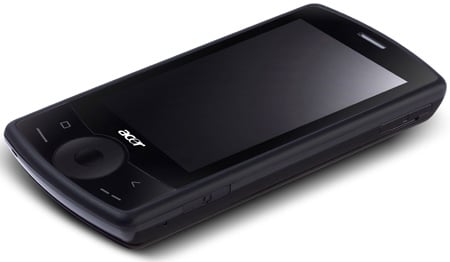 It has some good features, but the touchscreen wasn't one of them
So it looks more or less like a standard touchscreen smartphone, but as soon as we began to use it, the trouble started. The resistive touch screen is one of the worst we've encountered on a smartphone. We couldn't get it to respond accurately or consistently to our brushes and presses. This made the onscreen keyboard particularly difficult to use and we even had trouble with the numeric keyboard, which can't be right.