This article is more than 1 year old
Pure Sensia widget-running DAB radio
Tweet while you stream
Review As a rule DAB radios don't really blow the wind up our skirt here at Register Hardware, but when Pure announced its new Sensia back in September, we had a brief Marilyn Monroe moment.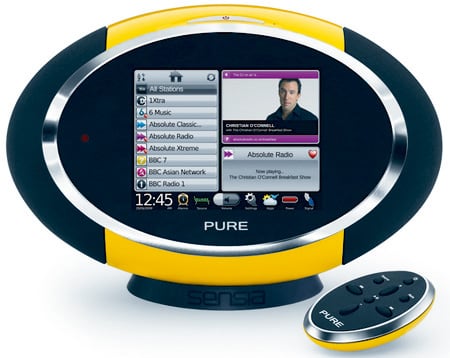 Pure's Sensia: Sound idea?
With a 5.7in 640 x 480 capacitive glass touchscreen, social networking apps, DAB/DAB+, RDS FM and Internet radio and wireless UPnP media streaming this self-styled 'radio for the Facebook generation' promised to be of rather more interest than the norm.
At a glance, the Sensia is, indeed, highly impressive. About the same size and shape as a rugby ball – or 166 x 280 x 180mm – and weighing a not inconsiderable 1.9kg, the Sensia is a beautiful looking bit of kit and feels equally well bolted together.
To prevent it rolling away the Sensia sits on a plastic base, which also lets you rotate the unit through about 45° for the ideal viewing and touching angle. Round the back you will find a 3.5mm audio input for plugging in an MP3 player, a headphone jack and a mini USB port for updates and Pure's optional i-10 iPod dock.
So far so good, but plug the Sensia in and switch it on and sadly things start to go down hill. To begin with using the touch screen to navigate about the system and especially to search and select radio stations, artists or albums is nowhere near as pleasant or easy an experience as it should be.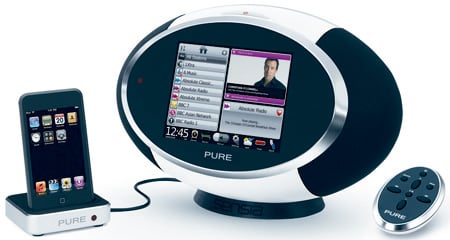 Alas, docked iPods can't be controlled by the remote
It's not the screen menu design that is at fault. The basic three-box layout with a row of icons at the bottom is sound enough too. Nor is it the capacitive screen itself, which seems to register taps and swipes well enough. No, the problem is that everything reacts just a little too hesitantly and haphazardly, suggesting either the firmware is a work in progress or that the operating system lacks the grunt for the job in hand – or a combination of the two.