This article is more than 1 year old
Firefox 4 beta gets Sync and Tab Candy Tab Panorama
Four to the fourth
Mozilla has released a fourth Firefox 4 beta, adding in its seasoned bookmark-syncing service, Firefox Sync, and its new tab-sorting interface, originally dubbed Tab Candy and now known as Tab Panorama.
"This release lets you own and control your personal Web experience by syncing your data across devices, and by helping you organize your tabs in order to juggle and prioritize your busy online life," reads a blog post from Firefox development head Mike Beltzner.
Originally known as Firefox Weave, Firefox Sync has long been available as a plug-in, and it serves as the basis for Firefox Home, the Mozilla iPhone application that lets you tap your Firefox data on your Jobsian handheld – even though your Jobsian handheld won't run Firefox. Now turned on by default in the Firefox 4 beta, Sync lets you synchronize bookmarks, history, "Awesome Bar" data, passwords, form-fill data, and open tabs across multiple computers and mobile devices.
When you download the new Firefox 4 beta 4, you will automatically be prompted to create a Firefox Sync account.
Unveiled in July as Tab Candy – and (very) briefly known as Tab Sets – Tab Panorama is a means of better organizing your browser tabs. "If you juggle many open tabs for work, shopping, music, social sites, vacation planning and more, you can easily group and prioritize those tabs any way you want," says Beltzer. "With one keystroke you can see an overview of all tabs to quickly locate and switch between tabs or groups of tabs."
The service lets you sort tabs like they're playing cards on a table – a different take on tab organization from the one long offered by Opera. Opera uses a "tree" approach to organize open browser windows and their tabs. "It might not be obvious that it can be used for this purpose, but the 'Windows' panel in Opera shows all your open windows, and the tabs within each window," read a recent blog post from Opera man Haavard Moen. "Now, just think: 'Window = group.'"
You can view a video showing off Tab Panorama here:
Opera's setup looks more like this: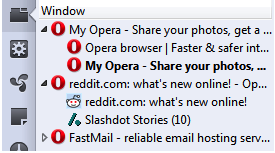 The new Firefox beta also includes an experimental API known as mozRequestAnimationFrame, designed to provide more efficient Javascript animations. The key word is experimental. "We do not guarantee to support it forever, and I wouldn't evangelize sites to depend on it," says Mozilla man Robert O'Callahan. "We've implemented it so that people can experiment with it and we can collect feedback. At the same time we'll propose it as a standard (minus the moz prefix, obviously), and author feedback on our implementation will help us make a better standard."
Plus, you'll find a new HTML5 video "buffered" property. "This is cool because we can now accurately determine which time-segments of a video we can play and seek into without needing to pause playback to download more data," says Mozilla's Chris Pearce.
"Previously, you could only get the byte position the download had reached, which often doesn't map to the time ranges which are playable very well, especially in a variable bit rate video.
"This also can't tell you if there are chunks which we skipped downloading before the downloaded byte position."
You can download the Firefox 4 beta 4 here. Per usual, it includes an add-on for providing feedback to Mozilla. ®