The United States' X-37B robot mini-shuttle spaceplane, which was launched into orbit on a classified mission in April, has changed its orbit. However the "secret space warplane" - as the X-37B has been dubbed by the Iranian government - has now been re-acquired by alert amateur skywatchers.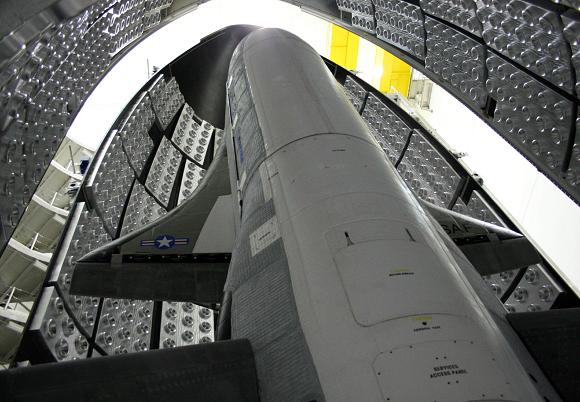 Security by obscurity.
The new orbit of the X-37B (also referred to as OTV-1) is around 30km higher than before, and remains tilted approximately 40 degrees up from the Equator. Amateur watchers lost the little spaceplane between 29 July and 14-18 August, then spotted it again on 19 August and refined their information on the new orbit over subsequent days.
According to veteran sky-watcher Ted Molczan, who has located and tracked many secret spacecraft:
This small change of orbit may have been a test of OTV-1's manoeuvring system, or a requirement of whatever payload may be aboard, or both. The new orbit appears to very nearly repeat every 6 days, instead of the 4 days of the previous orbit.
Satellite spotters have long played a game of cat and mouse with operators of secret spy satellites, picking the spacecraft up using home telescopes as they pass overhead and sharing information so as to work out orbital details and predict future passes.
The X-37B is a particularly interesting target for the skywatchers as its true purpose is unknown. The little unmanned spaceplane, whose payload bay has around the same carrying capacity as a large bed or a small pickup-truck, is launched inside a fairing atop a normal rocket stack.