This article is more than 1 year old
Oracle beefs chips and I/O on x64 blades
Whither Opteron?
Oracle is playing hide-and-seek with its x64-based Sun Fire servers again, but El Reg has found two new ones and some new blade gadgetry lurking out there on the Oracle site.
The Sun Blade X6270 M2 and X6275 M2 blade servers are two-socket machines and are updates of existing Sun blade servers that have been certified to run Intel's latest six-core Xeon 5600 processors. The original X6270 and X6275 blades, which was launched in April 2009 in the wake of the debut of the quad-core Xeon 5500 processors from Intel and just days after it became apparent that IBM was no longer interested in acquiring Sun Microsystems, were aimed mostly at HPC customers looking for compute density and integrated high-speed networking.
Sun has not shown too much of an interest in this HPC market because the margins at the big supercomputer centers are pretty thin, but blade servers are nonetheless in demand at some commercial enterprises and Oracle needs to offer something when customers want blades.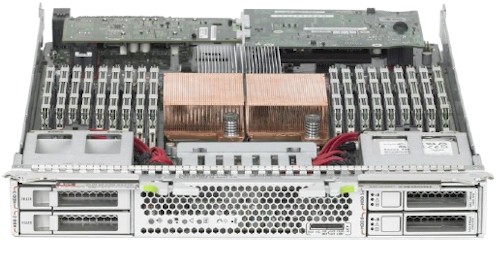 Oracle's Sun Blade X6270 M2 blade server
By moving up to the X6270 M2, Oracle is adding support for the Xeon 5600s (which we told you all about here back in March) to the same physical blade (or at least it looks that way in the pictures in the spec sheets). Oracle only supported 95, 80, and 60 watt parts in the original X6270 blades, but with the X6270 M2 you can use the 130 watt parts, which have four cores running at 3.46 GHz or six cores running at 3.33 GHz.
The X6270 drops support for 2 GB DDR3 memory sticks in the server's 18 memory slots, but both the old and new machine can use 4 GB sticks running at 1.33 GHz and 8 GB sticks running at 1.06 GHz. Oracle has not added support for 16 GB DDR3 memory yet. The newer blade updates the four interfaces to the midplane (which hook out to the Network Express Module) to 6 Gb/sec SAS-2 speeds. The two Gigabit Ethernet and one 100 Mbit management NICs remain the same.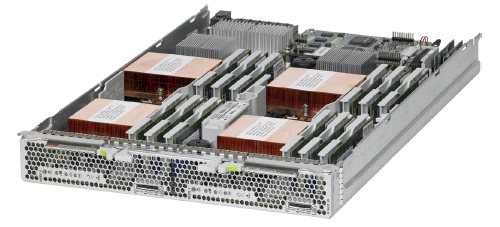 Oracle's Sun Blade X6275 M2 blade server
The Sun Blade X6275 M2 is actually a slightly different machine than the X6275 it replaces. Both machines are full-height blades that cram two whole two-socket machines onto the blade - and to its credit, Sun was the first server maker to do this. Sun was also gung-ho about InfiniBand and put a quad-data-rate InfiniBand adapter in the Express Module so HPC customers didn't have to eat a PCI-Express slot to use the X6275 in an InfiniBand network. The physical blade had one Gigabit Ethernet port and one 100 Mbit port for management on each server node of the blade that was separate from the ports virtualized in the Express Module.
With the X6275 M2, Sun is adding support for the Xeon 5600s as well a for low-voltage 8 GB memory sticks as well as normal 8 GB and 4 GB memory sticks. (The low-volt sticks run at 1.35 volts instead of the normal 1.5 volts and cut down on power draw and heat dissipation.) Sun is also putting a single Mellanox ConnectX-2 controller, which supports 10 Gigabit Ethernet, next to the integrated Intel Gigabit Ethernet port on each server node in the blade (which are exposed out to the Express Module).
The new blade does not appear to have support for InfiniBand, which is a bit odd considering that Oracle loves InfiniBand (as Sun did) and just took a 10.2 per cent stake in the company. The X6275 M2 also has its SAS ports upgraded to the faster 6 Gb/sec speeds.
Pricing information for the new Sun Blade X6270 M2 and X6275 M2 machines was not up on the Oracle site, but if history is any guide, it will magically appear at sometime between now and infinity. Oracle is supporting its own Solaris and Enterprise Linux operating systems as well its Oracle VM Xen-based hypervisor on these two blades, as well as Red Hat's Enterprise Linux, Novell's SUSE Linux Enterprise, and Microsoft's Windows Server 2008.
Oracle has still not talked publicly about its plans for Opteron-based rack and blade servers, and nor has it admitted that it killed off the Opteron line earlier this year, as it told customers privately but refuses to comment on.
Oracle has also started selling the Sun Blade 6000 Virtualized Multi-Fabric 10 GE M2 Network Express Module, which as the name suggests offers two virtualized 10 Gigabit Ethernet uplinks out of the Sun blade chassis that is shared by all of the server blade modules. The new virtualized NEM also provides one Gigabit Ethernet passthrough from the blade to the outside world as well as SAS-2 links for storage.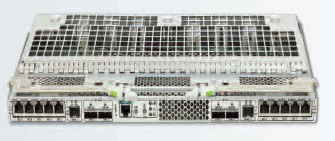 Oracle's revved Sun Blade network express module
This NEM M2, by the way, uses silicon that Oracle is claiming that it designed, which probably means it is some derivative of the 10 GE ports that Sun engineered for its Sparc T series of processors. This new NEM M2 is supported by all the same operating systems and hypervisors, but ironically also supports VMware's ESX Server hypervisor while the new blades themselves do not, according to the spec sheets. (That doesn't mean VMware's hypervisors won't work.) The NEM M2 costs $6,999.
Finally, the last new bit of Sun Blade hardware coming out of Oracle at some recent but unknown time is The Sun Blade Storage Module M2. This is a storage blade companion to the compute blades for the Sun Blade 6000 family.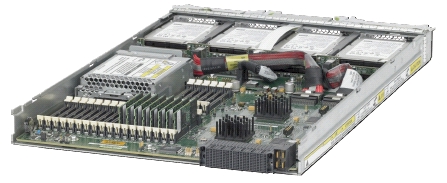 The new M2 iteration of the Sun Blade Storage Module
The Storage Module M2 is supported on the X6270 M2 blade mentioned above as well as on T6320 and T6340 blades that use Oracle's (well, Sun's) older Sparc T series processors. The module can be equipped with eight hot-plug, 2.5-inch SAS drives with 300 GB of capacity and spinning at 10K RPM. You can put up to nine of these puppies in a Sun Blade 6000 chassis, for a shared storage pool of 21.6 TB. What is not clear from the spec sheet and FAQ for the Storage Module M2 is what those slots in the picture are for. They look like tall memory modules to my eye, and it looks like it uses a two-socket controller for running the storage array.
Pricing and a ship date for the Sun Blade Storage Module M2 was not available.
Bootnote: As it turns out, the Sun Blade X6270 M2 mentioned above was indeed launched back at the end of June, and El Reg reported briefly about it here. It was buried in the Xeon 7500 and Xeon 5600 rack machine coverage. The revamped Sun Blade X6275 M2 was not announced back then. ®