This article is more than 1 year old
SMOKIN' HOT BABE gets job as computer geek
It's true! Sadly she is 6 inches tall and plastic
Parents who want to inspire their daughters to aspire to something more than make-up, fashion and interior design can now opt for Computer Engineer Barbie, the latest edition to Mattel's plastic figurine.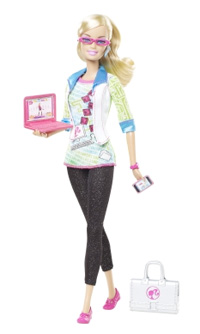 Who said that Barbies were all bimbos?
This particular version is the result of the 2009 Barbie Global Career Survey, which we discussed earlier this year. While 'News Anchor' came out tops, Computer Engineer Barbie won the 'popular vote' conducted online.
Complete with laptop, iPhone and bluetooth headset, the mini-mannequin has a closer resemblance to Reese Witherspoon's Legally Blonde character than an actual computer engineer.
Let's be honest, if this Barbie was realistic, she'd have a pizza box under her arm and a little more tummy under that 'Programmers do it bit by bit' T-shirt she'd be wearing.
Nevertheless, the new Barbie will hopefully inspire a few kids that they can be cool as well as geeky. To keep things über-realistic and save some money in the process too, there's no need to buy her any friends either.
Barbie I Can Be… Computer Engineer is available for $13 (£8). Now all we need to spice things up in the IT department is Ken the Coder. ®