Google's cloud printing goes physical
Not just a pretty test page
---
Android and iPhone users of Google's online services can now print too, probably, and if they've got the right supporting equipment.
Google launched its cloud printing solution early in December last year, as an essential component of its Chrome OS. That release was only capable of printing out a single test page, limiting its utility, but now a print option has been added to the mobile versions of Gmail and Google Docs so users can queue print jobs into the cloud.
That's the idea at least, but when we tried it all we got was "Invalid Content" errors, so there's obviously still some work to be done. But the print option is clearly there, and we were invited to select a printer to which we'd like to fail to send the document.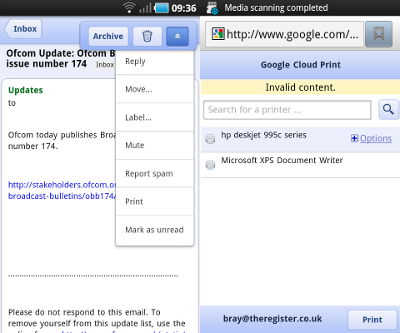 Not that we really wanted to print it anyway
Google'a Cloud Printing requires the printer, or the Chrome-browser-running Windows PC print server, to regularly poll the chocolate factory to see if anyone has added a print job, assuming the factory hasn't rejected the document as invalid.
We were forced to print out a few copies of the test page, just to keep our spirits up, but if you can convince your print server to run the latest beta of Google Chrome browser and aren't worried about the privacy implications of sending your documents via Google then do give it a go and let us know if you do better than we did. ®